by Virtual Assistant
(December 21, 2012)
Some days ago, I and Francis have hired a provider, 'M.A' (Original name not disclosed). As you are already aware of, we have hired multiple providers for Francis' outsourced job research project.
First we have hired a provider from Bangladesh, 'Roman':
interviewed him via Skype,
then opened a contract
and hired him for this project.
Although I have already told him that this would be a time-sensitive project and he had to start working for us right away, we did not hear anything from him after hiring him.
Why doesn't Roman write back after being hired?
As this was not a new experience for both me and Francis, I didn't close the job opening. Instead, I reviewed and short listed another contractor who was also from the same country I belong to.
We were looking for someone to research Chemistry related organizations and companies in Munich, Germany within a specified radius. This new person wrote in his cover letter that he is not only a Chemistry student, but also has some German language knowledge.
Found the perfect research assistant…?
So apparently this person seemed to be the perfect candidate for this position, but in actual that was not the case. I have closely reviewed his profile and found out that he was currently working in a well-reputed firm and I evaluated that if his provided information is correct, he would be earning at least $1000 PM, which is a very handsome pay in my country (Pakistan).
On the flip side, he applied for $1.11/hr including oDesk fee for our job. So that was the only reason I really don't want to hire him: for me he was over qualified.
I and Francis had a detailed discussion over this and finally agreed on the point that we will hire him for a limited contract of 5 hours per week and if he performs well, we will increase his quota.
Discussions via Skype took a long time
Before hiring him, I asked him to come online via Skype and discussed some important terms and conditions with him. He was totally new on oDesk and during this chat I came to know that his computer skills and literacy were very, very low and he even didn't know about some of the basics of oDesk Team Room Application.
I experienced two really funny experiences with this provider:
His Internet connection was so slow due to…
As I realized that he has very low computer knowledge and skills, but still we were interested in his chemistry and German language skills, so I moved a step ahead and told him each and everything about the project. But his internet connection was so slow that it took hours to download the provided training videos.
In fact I told him to download these videos and then we will discuss it tomorrow.
The show begins…
The next day I didn't hear anything from him and sent him a chat about the videos, after some time he replied that he was still waiting for videos to be downloaded. I asked him why it's taking so long to download these videos and also asked the speed and details of his internet connection, but everything was good.
After an hour or two he told me that there is a notification in his icon-bar that the internet is out of coverage.
I asked him where wifi router of his internet connection is placed, and he replied 'Downstairs'.
So that was the reason why he was not getting complete internet signal and was unable to download the training videos 😉
He was unable to click to the bookmark icons on Google maps because…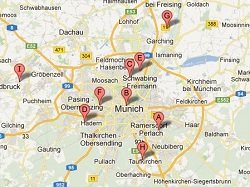 In fact, he was able to click those bookmarks on Google Maps but apparently they weren't popping out their addresses.
Let me take you into the situation from an earlier time frame.
After he downloaded and watched all the training materials, as expected he was not sure what to do. So I tried to train him little more. I made helpful screen captures with text annotations with the help of free screen recording software 'Jing' and sent him so that he can understand what we want from him.
I wanted him to follow along my step by step instructions and implement them in real-time. Out of these many screen captures, one has a screenshot of Google maps showing some bookmark balloons and places.
I asked him to do the same practice I did in the screen capture, but there was a serious problem with him, he was not able to click and open these bookmarked balloons. I stayed with him for at least 30 good minutes and explained him different solutions, but all in vain.
After 30 to 40 minutes of intense efforts, I realized that this person was not browsing Google maps on his browser. In fact he was clicking at my screenshot and was trying to open bookmarked locations over there.
Finally it's time to work on the project and deliver results
After I explained him each and every step of this project in detail and asked him to start his work for this project, he disappeared.
Those days I was also absent due to some domestic reasons, but I asked him two or three times about the project which he never replied.
After around 10 days I saw some activity within his work diary and noticed that he has worked on our project, as I told him that I would be away he reported directly to Francis instead me.
I was really not happy with his performance and especially with his work attitude so I recommend Francis to rate him low, but still he was more generous and gave him a rating more than I recommended.
2 weeks after ending his contract, I got an email from him that he was busy due to some PhD thesis, that's why he couldn't work. I didn't reply back because I think he should have let us know about this especially when we have already told him that this was a time sensitive project.
So in my opinion if you don't have a professional attitude towards your work, it doesn't matter how skilled you are. In any field of life your attitude comes first and everything else comes after that.
I would love to hear your comments about my failed but interesting experience.
Comments for Working with a Provider with Very Low Computer Knowledge and Skills
Comments
comments