Thank you for signing up for our email list about outsourcing to virtual assistants
You've just been sent an email that contains a confirm link.
You must click on this link in order to begin to receive the outsourcing information. You can unsubscribe any time you want.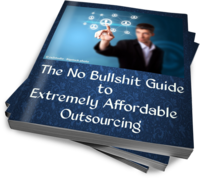 You'll receive the free ebook "The No Bullshit Guide to Extremely Affordable Outsourcing" directly after confirmation.
We'll start you on the journey to outsourcing with helpful emails without overloading you with too much information.
I'm looking to coach you, and am putting much effort in the information I share with you.
Please read the stuff I share with you, and apply it.
Too many people just read and sit on their bums all day.
I want you to take action!
Here's how to confirm your email
Open your email inbox and look for a message from francis@ideal-helper.com with the subject "Confirm your subscription".
If you don't, you will not receive the news, tips and expertise about outsourcing you have signed up for!

If you don't see that email in your inbox shortly, fill out the form again to have another copy of it sent to you.