by Francis
(July 06, 2012)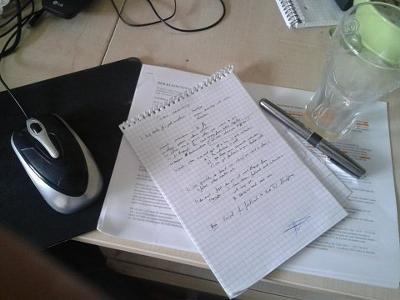 It's like a business accelerating "cheat" that I am doing here!
I just took a minute to jot down some quick thoughts about what I am going to say in a specific webpage on this website. Then I simply opened my screen recording software and started talking…
You have to know, I can get pretty talkative very easily. This way, I can get across all my ideas.
What I then do is ask my VA to
Order my thoughts a little bit
Research pictures for the webpage
And most importantly give me his honest opinion and feedback about my post.
The little work that is left to do for me is just to review the transcript of what he has ordered and transcribed for me, make the last little changes and send it back to him.
By mastering this back and forth of voice recording, transcription, feedback, loop, proofreading and posting, I know that I have increased my productivity and my work speed.
Not by two but at least three times – just by working together in a tandem with a business partner who knows what I am up to and also knows about the little quirks and communication flaws that I have, just like everyone else.
Without my VA I wouldn't get to finish half of the projects flying around in my head. Now he helps me to work in a focused way on one thing at a time, because he helps me actually finish all those projects flying around in my mind.
I thought it would be interesting to have a little look behind the scenes of the writer of ideal-helper.com
If you have any more questions about how I am using screen recording software to increase productivity, ask away and let me know in the comments.
Comments for Turning Quick Notes and a Screen Recording Video into Great Webpages with the Help of My Virtual Assistant

Mar 05, 2014
Screen recording really saves time! :-bd
by: DeniseI've been on the receiving end of these screen recordings and I must say that they really make things easier to understand. Because of them, I end up really knowing what it is that I'm supposed to work on since I don't only receive the instructions but also see what I need to do. They're great!
May 29, 2014
Wonders of a VA
by: JomvieApart from your VA doing the wonders for you—a screen recording and quick note comes in handy that can help you easily note down ideas and squeeze in your last-minute-quick-ideas without any time loss.
May 28, 2015
Handwritten Notes and Screen Sharing Can Also Be Very Useful To Explain Things
by: FrancisWriting emails and sending audio messages is fine. But using handwritten notes as well as screen sharing can be extremely effective if you explain something to your virtual assistant.Sometimes I even just open a paint window and make a very small but explaining doodle to make a point to my virtual assistant. Visualizing your ideas using video plus real-time voice recording to emphasize different points really brings across what you want to tell your virtual assistants much more closely than just writing an email.So using handwritten notes that you can just make a photo of with your mobile phone and put into the Dropbox with two clicks and combining that with video is not only useful to create content real fast, but also to make a point to your virtual assistant.
Comments
comments