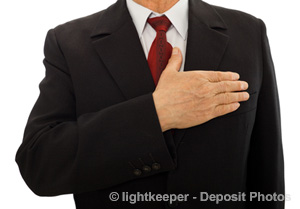 Good work ethics, transparency and personal integrity are three key aspects that every virtual assistant needs. We define integrity for a virtual worker as having personal standards that will not be broken by the opinion of others.
What does integrity mean for a virtual assistant?
Personal integrity is crucial for your everyday life. For a virtual assistant, here is how we define integrity;
You have to be open and honest about what you can and cannot do.
Be sincere when for example, a task is more than you can do. It's better than to lie in order to get more work to do. Similarly, when you have a strong skill, there's no need to hide it.  Be sincere and transparent in the work you do.
How to Make Your Work More Transparent?
You can make your work more transparent and understandable for your employer if you grant him visibility on what you do in real time. There are three methods on how to do that:
Using oDesk's team application, you will share regular screenshots of your desktop and, therefore, the manner of how you work.
You can use a productivity tracking software.
You can make screen recording videos of you doing specific crucial tasks so that your employer can see how you work.
What Does Integrity Mean When You Work As A Virtual Assistant?
You should have two rules.
Rule#1: 
Have personal standards.
Those are ethical rules you play by and you will not bend for anyone.
Even call your employer on this if he breaks one of your personal rules. Call people on the word they have given.
Rule#2: 
Say 'No' when you can't do the job.
This does not mean that you are weak or a bad worker. You can show alternatives.
For example, show motivation to learn the skill needed to do the work.
Or, research alternative ways to solve the problem.
How Others Define Integrity and Good Work Ethics
You want to get some inspiration on the subject of great work ethics, personal power and integrity? Then, please check out this gallery with quotes about integrity.
I've asked my virtual assistant to put together a few quotes and present them as a gallery.
(Click on the picture below or on the right to start the slide-show.)
Quotes that define integrity
How Will Having Integrity Help You As A Virtual Assistant?
Perhaps, at the beginning, it will slow you down when you protect your personal values too much.
But, in the long run, and especially when you work long term for an employer, having integrity will help you succeed.
There is such a thing like an online reputation.
Your reputation as a virtual assistant is crucial.
If you lie on one thing, your reputation will crumble faster than you know it.
But if you do as promised and over deliver with hard work, you will get referrals and personal networks that will help you with your career as a virtual assistant.
An Inspiring Book
Read about how Ayn Rand defines integrity.
One great book about the subject of personal integrity was written by Ayn Rand and is called "The Fountainhead".
(As you can see from a photo, I have read it quite often.)
It is a good read and inspires you to think about and strengthen your ideals of personal integrity.
What Does Integrity Mean For An Employer?
As an employer, you can greatly benefit from the lessons of this article. Having integrity will help you retain virtual assistants for a long time as well as to build trust with your coworkers.
Here are some things that you should keep firmly in mind when you are an employer:
Pay on time.
Keep promises always.
Give your virtual worker a perspective for the future.
Be ethical when you do outsourcing.
Have your own standards of quality especially for content writing. After all, if you own the article, you will procure good name and reputation under it.
Your Opinion Matters
How do you define integrity?
Show some personality and openly join the discussion in the comments below.  Even if you don't agree with my points of view, I really appreciate your input.
Comments
comments