Visit our outsourced virtual assistants blog for news on ideal-helper.com. All about outsourcing and hiring and managing VA's!
One of the reasons why it is great to have a Virtual Assistant is: it's easier to reach your goals!
Think about it. Would you rather work on a huge pile of tasks alone or with one or several highly motivated helpers?
I chose the option with the helpers, personally. And with good success. In order to reach my next set of goals, I want to make them public so that I have some accountability.
My Goals for the first Quarter of 2017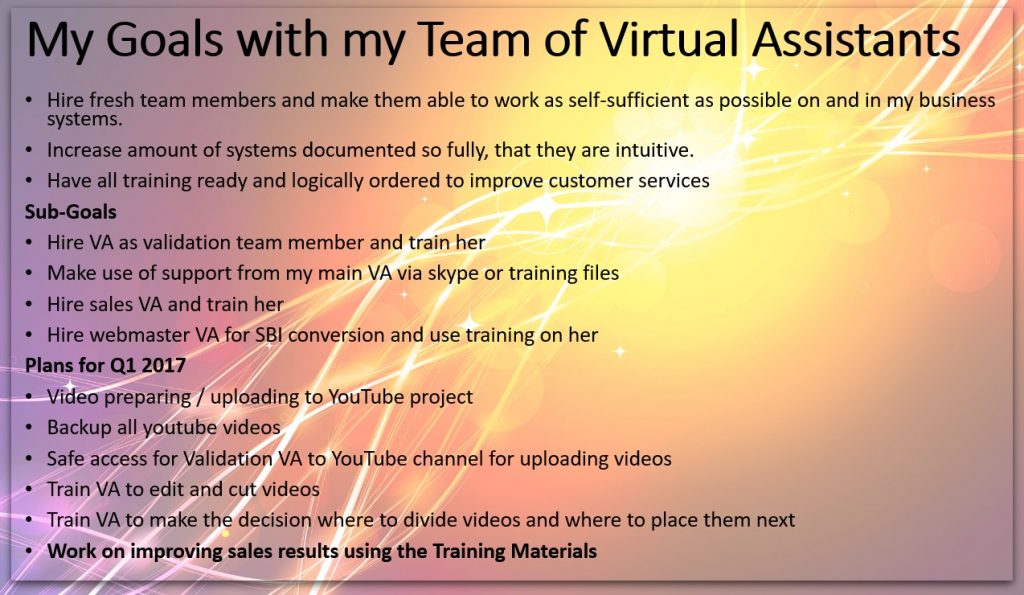 There, it's public. Phew. Feel free to tease me about my goals in the comments so that I reach them (or do a better job at setting them next quarter).
This seems a lot (it's not a problem if these goals don't mean anything to you, they are mainly related to my own set of business systems that I talked about here). But:
I won't be working towards these goals alone. Nor should you!
What's the best solution if you need more time to reach your goals but you only have 24 h a day, like anyone? You get help from one or several Virtual Assistants!
Using a team of VAs to create content for you
If you own a website, having a dedicated team of assistants helping you out with your website content is a great strategy. Obviously, there are lot of ways to hurt your site and do it in a wrong way. I wrote about having a team for your content creation while keeping your original voice in this post.
Increasing my team by one more Virtual Assistants from the Philippines
I hired a new team member from the Philippines yesterday to help me out with documenting my business procedures. I'm really excited about working with her!
The first days with a VA are always the most interesting and work-intensive. Yes, you have to work to have someone else work for you.
It's a bit counter intuitive, but that's probably why most people don't have someone to work for them while they sleep 🙂
Important for when you start out with a VA
At the beginning, it's very important to gain trust. Your assistant has to know you are serious about your business, but also about them. Giving them attention is more than just about training them a skill. It's about making a connection. This holds especially true with VAs from the Philippines.
The cool thing is she is very communicative and reacts fast to emails. There is nothing more difficult to deal with than not knowing what is going on with your VA because they sometimes don't answer. In these cases, you did not build enough trust in the first place. Or you failed to choose the right person for your team. It's somewhat all about empathy.
Anyways… my goal's list is a bit scary now that I think about it. There is lots to do on that list. And even when I onboard the first VA, every team member needs some of my time, and onboarding the second will actually not be that easy. But hopefully my first VA will be able to help me support with training the next!
(especially for the first days "orientation" type situations)
Implementing training with a team of helpers
What will I do once I have trained my new team members? I will increase the speed at which I implement the training materials of a community I am involved with. I learn lots of great tactics to improve my business and make it more profitable, but I always struggled with not having enough time.
Now it's time for some action!