In my opinion, State of the Art Mailer (or SOTAM) is effective and, more importantly, fun safelist to start with.
A combination of the most effective list mailers is the best way to generate substantial traffic. Using SOTAM for traffic generation is a solid starting point.
State Of The Art Mailer In A Nutshell
Traffic generated with a free account (real statistics):
300-350 visits per month with less than 5 min per day of work
You'll receive ~50 mails per day in your inbox (and you can learn here how you can still keep your inbox clean from all these emails)
Solid and proven traffic generation in comparison to other list mailers; visitors interested in the IM niche
Diverse advantages of safelists, including downline building explained
Perfect for outsourcing traffic generation (traffic for 0,6 US cents CPC!)
Step-by-step instructions to give away to your assistant (or for your own use)
Your Main Goals:
Generate traffic using the safelist State of the Art Mailer (or SOTAM).
Sent that traffic to a landing page where you can gain real subscribers (once they sign-up)
Market your message to your subscribers (ideally relevant to the internet marketing niche)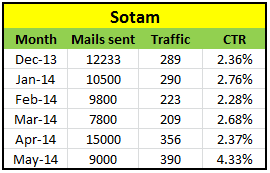 How Much Traffic Will You Be Able To Generate?
From my experience over more than a year, you can generate 300 visits per month with the State of the Art Mailer. That's for the free account. If you go premium, you can get more visits, but I didn't test that.
It's clear you need more traffic.
You can achieve more traffic by scaling up to more similar list mailer services. Once you understand the principle you are about to learn here, you can reproduce that with any list mailers!
The process:
We made a series of trial and error runs, and found the most time-effective way of using SOTAM.
Who is "we"?
I outsourced the credit generation for SOTAM to several Virtual Assistants who did not have any previous experience about that topic. I made sure to teach them exactly how to generate traffic most effectively.
Now, I am going to show you an…
Effective Step By Step Guide To Using Sotam
1. Create A Simple Signup-Page
Since list mailers send traffic from all sort of sources, I kept things "clean" for my site and created a very basic landing page using blogger (totally free)
Important elements of your landing page:
The title (most important element of the whole page)
A few bullet points with your advantages for the subscriber
Your personal voice – there are too many gurus out there
2. Equip Squeeze Page With An Aweber Signup Form
You will gather subscribers with SOTAM traffic (and from other list mailers for more effectiveness) here. With AWeber you can split test the best variations of your sign-up call-to-action. This will maximize your conversion rate.
AWeber has an excellent built-in split-test feature to optimize your conversion rate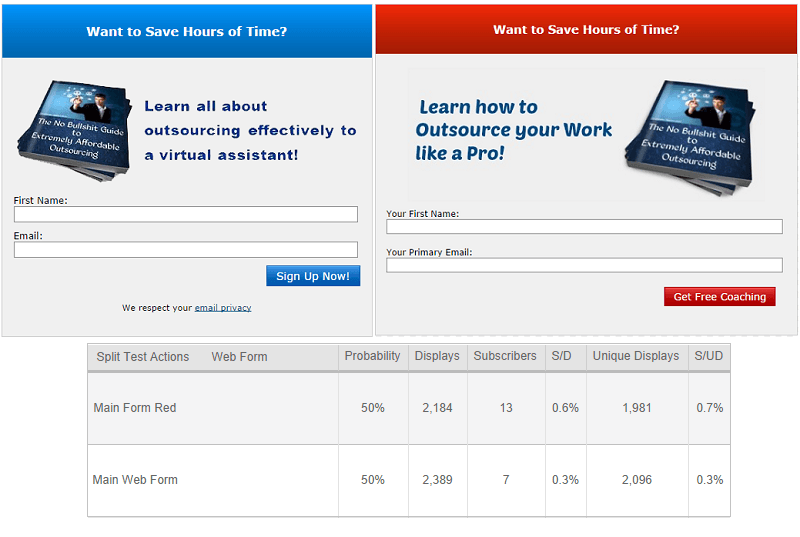 3. Generate Credits With The Help Of A Virtual Assistant!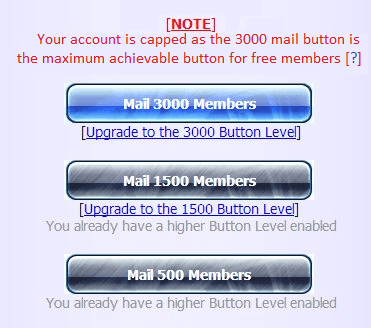 With the free State of the Art Mailer membership account, you can mail up to 3000 members every 5 days from your previous email.
Before in sending your email template to 3000 members, you should maximize your credits to 3000 credits for maximum traffic.
You can spend the time clicking away to gain credits yourself. It may sound easy, just clicking away, but it can be very dragging and tedious work…
Tips:
You should use a separate email or Viralinbox account only for SOTAM and other viral mailers.
You can open multiple windows from your email account (CTRL+left click) to "claim credits". This is not possible from within the SOTAM account website because they allow only one window at a time.
The time waiting and clicking will probably just burn out all your energy (my VA Jomvie can attest to that!).
Easier Solution:
These credits can be generated with the help of a virtual assistant.
This information is all you need to start outsourcing traffic generation today!
[contentblock id=11]
4. Create A Catchy Email With A Bit.Ly Shortened Link For Link Tracking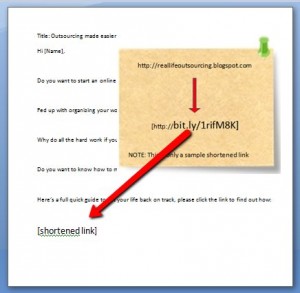 Before spending our credits, you should create a catchy email body and title that will be used to introduce your landing site. It needs to be catchy because you only have a few seconds to get the attention of the SOTAM user clicking through your email.
In our case, since my website talks about OUTSOURCING, we have created a catchy and inviting title.
To be able to monitor and track the traffic, we used bit.ly's shortened link to track all updates.
Create your own bit.ly account (or use ViralURL for more synergyzing effects). Its sole purpose is to track and monitor your visitors (and potential subscribers!) clicks.
5. TIME TO SEND YOUR FREE EMAIL TEMPLATE TO 3000 MEMBERS!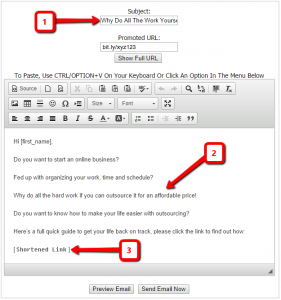 After all these crucial steps, you can now send your email using SOTAM's smart emailing system. To illustrate, in our case, we insert our:
Subject/title
Final draft email (body of email)
Shortened link
6. Now Your Email Readers Will Sign Up To Your Aweber List!
The reason why you need your squeeze page with an AWeber signup form is to expand or increase your list with the help of State of the Art Mailer traffic.
Once they open our email and click the embedded shortened link, they will then be redirected to your landing page. And with the help of a catchy title and email, they will now register using your sign-up form and join your list.
With your list expanding with the free (or, if outsourced, dirt-cheap) list mailer traffic, you can market to your list and get direct and returning traffic.
More Good-To-Know Facts
How Many Mails Will You Receive Per Day?
You will get an average of 50 emails a day. Each email ad consists of 12-15 credits, which mean you can get more than 650 credits a day.
(Rememember our tip to use a separate email account or a ViralInbox account)
Solid and proven traffic generation in comparison to other list mailers; visitors interested in the IM niche.
Traffic Quality Is Very Good – Mainly From High Cpc Countries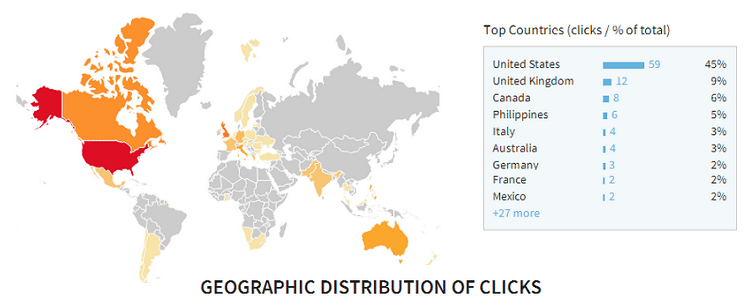 Using tracker links, we analyzed the traffic quality of State of the Art Mailer traffic. The results:
Solid quality traffic mostly from high cost per click english speaking countries (USA, UK and Canada).
Conclusion
The State of the Art Mailer is a recommended safelist generates solid traffic for you. This process is
stable,
reproducible,
easy to outsource for maximum ROI.
Comments
comments