Bad business ethics in a global market place are the number one factor that will destroy your chances of being successful with outsourcing or working as a freelancer.
The easy part of outsourcing is to get the work done as an employer or making the money as an employee.
The hard part as an employer is to have good outsourcing ethics so that you can sleep at night and be proud about what you do to your friends.
The hard part for a virtual assistant is to impress your employers with the high quality of your work and your loyalty so that they cannot help but
and even hire you full time on their team
If you choose to do outsourcing without any business ethics, this will hurt your success both as an employer and as an employee.
Bad business ethics as an employer of virtual assistants
As an employer, you spend the money for results. But paying money does not free you from your responsibilities.
The best bottom-line attitude to have as an employer is to think of your workers as respectable experts that you have the opportunity to have gained as associates. Always think about how you both can win.
You'll know that you have ethical issues as an employer if…
…you catch yourself thinking like this:
Cool, I can hire a "slave" in India for 1$/hour!
This work is crappy and boring to do. I'm not even sure it needs to be done, but my assistant is so cheap, let's just have him do it.
This damn VA is stupid and doesn't understand me. I better yell at him real good!
Bah, I'll fire the guy. There are millions like him out there…
…or any condescending, egotistical thoughts towards your associates…
Re-think your strategy!
If you have this approach about outsourcing to virtual assistants.
If you continue to think this way, chances for success are slim for you.
The worst things you can do to your virtual employee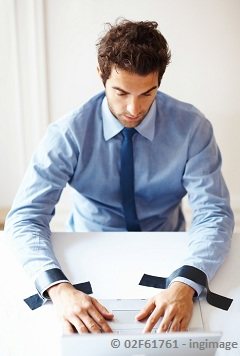 Your employee depends on his work for you and trusts you to treat him fair and square.
There are not much more ways to hurt your assistant, both financially and emotionally.
Firing a person without further notice
This will leave him in the rain, and he'll lose time trying to figure out what happened (he may assume that there was a technical glitch) or trying to convince you not to fire him.
Lack of communication by not exchanging your thoughts with your virtual assistant
How can your VA learn how to best do the work for you if you don't tell him? Take the time to instruct your VA of what you want.
It doesn't even need to take that long: a quick video using screen recording software takes minutes and can clear up tons of misunderstandings instantly.
Shouting or insulting your employee
You know this would be wrong if you had a person right in front of you.
Don't go there. It'll make you look weak and will lower your self worth. And it's rock bottom even for bad business ethics.
What good are you as an employer if you raise your voice against someone working on the other end of the world? Especially if he or she comes out of e.g. an Asian culture, where politeness and respect is of highest importance?
It's perfectly possible to fire someone and leave him an unnecessary evil feedback to "get back at him". You won't gain from it.
It's possible to hide excessively bad feedback on most outsourcing companies' feedback scores. Also, you might be kicked off from the outsourcing service.
And honestly, do you want to kick off someone that might know lots about you, your business, and might escalate the revenge even further by attacking you back?
If you follow those bad business ethics when outsourcing, others will know:
oDesk, for example, also has a feedback system for employers, and you'll run out of prospective co-workers if you are treating them badly.
Be good to your VA's: They will reward you with excellent results
You will be pleasantly surprised how far a few nice words, some praise here and there and constructive criticism will bring you and your business. A loyal and motivated virtual assistant might be the biggest asset you'll ever have.
Bad business ethics will always come to bite you in the end.
What if your virtual assistant has been bad?
Read how to cope with bad behavior from your virtual assistant.
Comments
comments