The Insider View Of A Virtual Assistant From The Philippines
In the years of my experience working as a regular employee, I've encountered a lot of faces with different traits and characters.
I know for a fact that I can't conclude every individual's attitude since we have our own abilities and capabilities. But, one thing is for sure, I know what I am going to tackle in this post and some may not be about others taste or too harsh, but let's face it—it's called reality.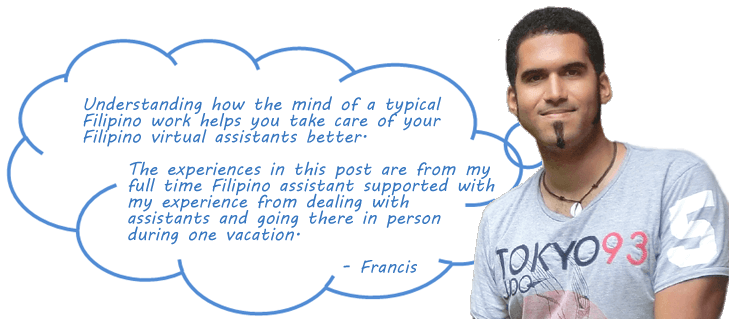 Filipino as we are
Filipinos are known to be very hospitable and accommodating. Yes, we are. Even in our own home, we love to accommodate and gather around over some delicious foods (food is the easiest way to get to your friends and family). We love long talks and a get together after a long week of work.
But, what is it really like to be in our workplace?
What is the true essence of the Filipino's way to do business?
How do they treat each other?
We all know for a fact that in every workplace, there are competitions may it be healthy or not. And in every success comes with different reactions. As an insider to this delicate topic, I will get you to my workplace.
The worst aspects of Filipino work ethics
We all want a decent and a good paying job. And what if I'll tell you that mostly one of the better paying job in our country needs an access inside?  And if not, a jealous workmate who will do anything just to pull you down before your promotion?
Here are the top following dirty work ethics that are commonly seen in our workplace.
Padrino System "Palakasan" When it comes to work or job referral, "Padrino System" also known in our local dialect as "Palakasan"  is one of the most common, most corrupt, unfair and dirtiest way of getting a job in the government and/or other private industry without the hassle.I am not in the right place to rant this out, but this kind of system is an open secret and I hate this personally. I know I am not alone in this war, and there's nothing that we can do about it because it has rotten its way up to the top.
Crab mentality It's a metaphor that refers to a basket of crabs. Instead of getting out individually, one will grab and pull each other down.Just like in a workplace setup, if you are highly recommended to get promoted for your good performance, some of your workmate might not like it and will do anything and will try to expose something not good from the past just to prevent you from getting that position.It sounds like an excerpt from a movie, but seriously, it happens in reality, especially in a big company and/or even in small industry.
BackstabbingWe all love some chit chat with our friends and most especially in our workplace since we spend most of our time in there. But, we cannot deny that along with that chit chats, it comes along with gossips and/or talking about other peoples' lives behind their back.I, personally, hate this kind of attitude where you'll talk about others when you didn't know personally what they have been through to survive their everyday life.We don't have the right in any way to belittle someone or somebody and that we should keep our noses to its rightful place and mind our own life and be good at it.
Filipinos' best character traits for doing business
Filipinos are creative, fun and extremely optimistic. Coupled with their natural sense for doing business and coming up with ideas on how to make money, this is very refreshing.
Of course, in every con, there comes a pro. I might have fired up a little earlier in our discussion, but behind all those negative traits, there are some good behavior and character that overweighs the bad.
Naturally, Filipinos have the sweet and homey aura that will surely lighten up your day—a true Filipino business ethics. Despite the competitions and teeth grinding behaviors in the workplace, someone will always be there to brighten your day.
Like what I said, I can't conclude this issue for everyone, but speaking for myself through my experiences, we have the attitude to:
"Never give up"
"Try and try, until you succeed"
"No pain, no gain" / "No guts, no glory"
Personally, I have within me the trait, "To never give up, keep pushing yourself to the limit, and don't let the obstacles hinder your success."
Life may be full of strife, but at the end of the day, a true Filipino will always live by these words,
"huwag kang susuko sa pagsubok ng buhay"
(In English, that means "Don't give up on whatever life may bring")
Optimism is the key
I lived in a country where poverty rate shoots sky high, where a higher percentage of families sleeping at night without anything in their stomach. But, despite all that demise, you'll never see them break down and cry for help for the rest of the day.
They will always try and look for something and/or anything to be able to bring something to their family at the end of the day.
Yes, most employees live in a day to day basis, just like a "one scratch, one peck" or in other term "living paycheck to paycheck".
But, do we stop from there?
Instead, we make it as a strong hold to reach for our goals in life.
That's why they always say, "Habang may buhay, may pag-asa."
(In English, "While there is life, there is hope.")
A Smile Can Mend A Broken Spirit
It's not always a happy time—there are times that we don't see the light of the day in our lives (it's a metaphor). We all go through rough and tough that seems endless, but we never forget to put a smile on our faces.
The best trait that I've ever seen most of my entire life is that Filipinos will never let the storm and sadness overcome their lives—they will always get on their feet and stand all throughout the darkest hour.
Just Perception and Life Disposition
We all have that bad and good side, but we should always remember to put them into the right perspective. We have differences and that makes us so unique from each and every one. And no matter what race or color you have, it will always depend on how you see life.
Comments
comments