by Virtual Assistant
(September 11, 2012)
Today I am going to showcase a very interesting case study. Perhaps most of the readers of this website already know that Francis (Owner of this website and also my Employer) uses screen recording software for providing me work instructions.
Video instructions work way better than the written instructions and now I hardly receive any email instructions from him. After quite a time working together, we both have devised such an automated system so that we don't have to inform both of us with every little work update which saves a lot of time for both parties.
Today, he shared a video in which he showed me some parts of my work diary on a specific day where I continuously worked around seven hours with two short five minutes breaks.
I was also very surprised to see my productivity because normally I don't work for such a long period at one sitting. So I reviewed my work diary to investigate about the case.
When I reviewed my work diary, I came to know that apparently it was not showing in my work diary but actually I did take two breaks for 25 minutes each.
If you look at my work diary, you'll probably not notice unless you pay a close attention to it. Look into the highlighted part of the above work diary, you'll get to know that I took a 25 minute interval.
How?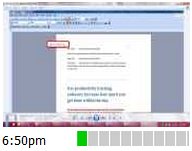 Every screenshot of the work diary represents 10 minutes and usually if you stop the tracking time at 6:50pm or at a similar rounded time and the team room application just captures and records this screenshot with a 1 minute activity.
For all oDesk Employers:
If you closely review the work diary of your workers, you'll get to know that whenever he or she stops working on 3:50pm, 8:20 or likewise, a screenshot for 1 minute activity added to his work diary.
So my advice to all employers is not to consider this type of screenshots from your provider's work diary. Also do not measure your virtual worker's productivity from the first and last screenshot of his work diary.
But Still I admit that Francis' observation was not wrong, because I actually worked for a long and unusual period. There are several reasons why I worked for such a long period.
Perhaps it was Monday and usually a worker is more productive and motivated on Monday toward the work.
I have had a scheduled vacation starting from the next week perhaps that was the reason why I wanted to work more and clear backlog as much as I can.
Comments for An Interesting Case Study about My oDesk Work Diary
Comments
comments