by Francis
(July 23, 2009)
Here is the 2nd job I ever outsourced in my life. I still was very cautious about the whole outsourcing process and I did not want to risk anything financially or my time. So I thought of a very small project that I could outsource to oDesk.
At that time, the minimal budget that was possible for a fixed price job was as low as $1. So I went for it.
(Now in 2012 oDesk has raised the minimal price for a fixed price project to $5. But at that time in 2009, it was really cheap to experiment.)
There was a song that was really stuck in my head. I loved to hear it up and down all day long. I was thinking: "what if someone could research for me several variations of the same song? Specifically, several electronic remix variations."
Let's take a look at my job description:
Find and collect variations of same music title on youtube
---
Job Description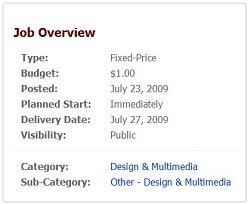 This will be my first job posted on Odesk.
I am looking for someone to search and find on youtube 15+ links for different variations of the same song.
You will gather the links in a text (.txt) file and send it to me.
The song is called "Heaven" and is the techno version from Dj Sammy and Yanou. Here is a link to youtube:
http://www.youtube.com/watch?v=OuBmiu68ECU
You will search for different variations of this same song. They may differentiate by the beat, the style (so non-techno-variations are OK) or the DJ interpreting the song. They may also be variations sung by another singer.
I prefer more fast-paced music (like techno), but some variations may be very slow-paced, if available.
At least 15 variations of the same song are required. One variation must be the original song.
Each song should last longer than 2 minutes, meaning that a sniplet of 5 seconds on youtube will not be acceptable.
The search should not take longer than an hour. Thus, the songs do not have to be listened one by one to the end, just make sure it is the right song and a different variation of it.
I like interesting new music, so very "special" variations of the song are welcomed.
Skills Required:
Search, Online Assistant
I know that I could have done this research myself. Perhaps it would have taken an hour or two for the same results, but I was curious about the outsourcing process and I was a little bit short on time.
So, I posted a job to the category "Design & Multimedia" and hoped that someone interesting in multimedia and music would pick the job up.
If I would do the same job today, I would have placed it into "Administrative Support", "Web Research" or a similar category. It is a very simple job and many providers who do data entry jobs could have done it.
Design and Multimedia typically has more people who are better paid and therefore do not take a second look at my job opening for $1.
Still, I got two replies within a few minutes, perhaps an hour. The two applicants were called "Ronald" and "Nevelyn".
I went and hired Nevelyn because I liked her application better. She seemed a nice person. It's only now that I realized that my very first virtual assistant for a mini task has been from the Philippines.
I had some very specific ideas about the results I wanted to get. I wanted original and special versions of the same song "Heaven". You can have a look at my job description if ever you thought about hiring someone to do a similar job for you.
Perhaps you have a whole list of favorite songs that you want to get every song variation on YouTube that you can get your hands on?
When I got my results, I was so happy that I was encouraged to continue outsourcing.
If it was so easy to make my life more fun and easy for the nominal amount of 1 small dollar, then I was hooked. I got at least twenty variations of the song which was five more than I asked for. So this provider even over delivered on what was asked for her.
Although some songs were live recordings on YouTube and their quality was not so good to listen to, there were still enough songs that would quench my thirst for this special song for a long time.
Look forward to the next outsourcing case study, where I will show you what else I did on oDesk!
If you liked the idea of outsourcing from this case study, I'd really love it if you would leave me a comment here.
And even if you find it silly that I had outsourced a small task as this, let me know!
There are many tasks that can be outsourced. This was a very very small one.
Comments for Case Study: Outsourcing Music Research. I Liked a Song and I Wanted More of It
Oct 14, 2012
Note: Minimum bid on Odesk is now 5$


The case study described only worked this way in 2009. Now you have to invest at least $5 into a fixed-price project.

So you better find 5x as many songs to research 😉

Mar 06, 2014
This is a great idea!


Hmmm… Those who are still unsure about outsourcing — but want to know what it is — can do something similar to this. What a smart idea! Maybe I'd try that myself sometime and see how it goes. Hehe 😀

Jun 02, 2014
Great experiment


This is a great idea or reference for a newbie who wants to try outsourcing their work. Sometimes, we can't deny that fear comes first when it involves money.

Comments
comments