by Francis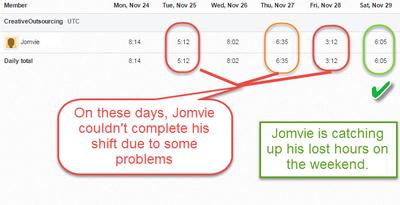 Internet connectivity problems, power outages, other incidents – my full time VA from the Philippines, Jomvie, has his share of troubles.
It's important as an employer to be understanding when there is nothing you can do.
But it's equally important to be creative and resourceful to find solutions when the situation is not unavoidable.
For a Virtual Employee – Inform your Employer of any Problems
Your Employer is planning on your work output. He has his projects in mind and hopes most of all on things going smoothly. Even though you might be troubled with a situation, it's still important to squeeze in some time to let your boss know. Else, he is likely to make some wrong assumptions.
Here is what Jomvie wrote to me yesterday:
Hi Francis,
I wasn't able to finish my shift yesterday due to a combined inevitable event yesterday. There was a very heavy storm that brought heavy rain and flooding and a power shortage. So, I can't really go out to finish my shift.
Hoping for your kind consideration.
Best and Thanks,
Jomvie
For an employer – think of alternative tasks that can be done offline and of backup plans
Jomvie and I have discussed backup solutions for internet outages many times. From going to an internet coffee to considerations of a secondary internet connection. We also discussed issues of general power outages in the past.
Both are problems that come up regularly in the Philippines.
In my experience, only a minority of virtual assistants from this country try to use this as an excuse. But it's hard to prove it either way because the productivity of an offline virtual assistant is hard to track. Although there are (paid) solutions for that.
Finding a solution together – for both employers and VAs
I believe you will profit from this discussion, if you are a VA or plan to hire one. Even if you (a VA) come from another country, you can still learn from this.
Different levels of calamity / problems
To you as a VA:
Dependent on how big the problem, you need to react differently.
Really dangerous crisis:
A taifun is flooding the streets. Houses are broken. There are causalities. What to do? Save yourself! Nothing more important than that. (I tell this because there is a story of a filipino VA who was sitting on the roof of his flooded house, writing to his employer from his laptop which he saved first, that he couldn't take care of his shift today. That might be a bit extreme)
Unable to work, unable go out:
Heavy storms and rain make it dangerous or really difficult to go out. Your stuff or your house risks to be damaged. Getting a Taxi would be a big challenge. What to do? Stay put! Make sure your infrastructure is OK, and take care of important phone calls. When you just sit there and there is nothing you can do, work offline and take note of what you do. Log that time as offline time with a short explanation in your daily update later. (I touch on the importance of daily updates here.)
A plain internet deconnection, no other problem:
Try to get back the internet connection. If that's impossible, assess how much longer you would need to work today. If it makes sense, go to a backup place or solution for getting internet. Let your employer know (for example via mobile phone).
In all of these cases, when the problem is over, be sure to reach your employer. He might already be worrying about you.
Let's open the discussion!
There are many other aspects to this situation, but I want to open the discussion to Jomvie and all you readers. Feel free to jump in with your own opinions any time in the comments!
Comments for Finding a Solution for Internet Interruptions of my Filipino Virtual Assistant
Comments
comments