by Francis
(July 02, 2012)
You read right. You have to got to love the Dropbox service. I am using it every day – but I am not going to pay for it. The free service does more than enough for you if you only have smaller amount of files to backup and share.
But with several cooperations with virtual assistants and hundreds of sub-folders being saved into my dropbox, I was running out of space quickly.
For five dollars, I found a Gig that said that in a very legal and official way, they could expand my Dropbox to 18 Gigabytes of free storage space.
Sounds like a real bargain?
Believe me. It is!
From all the Fiverr Giggs I did up to date, it was the most effective one. If I have spent $150 dollars on Fiverr Gigs, this one Gig probably was worth it for all those Gigs together. It was very simple. I got my referral links from the Dropbox website.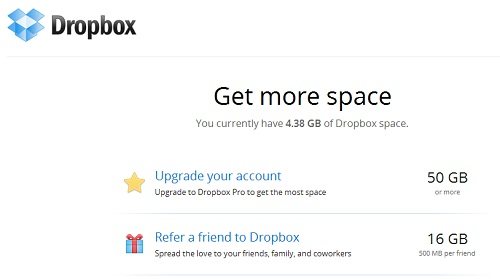 I told him my current account capacity and I looked if I could provide an .edu account to him.
If you are a student, you know what that means.
It didn't take half a day until I got what I paid for – and even several gigabytes more.
This person over delivered.
Are you interested?
You should be.
Check out this link if you want to increase your Dropbox size. Tell the guy I said hello!
Comments for My best Fiverr deal ever! Expanding my free Dropbox from 2 to 18 GBs for $5.
Comments
comments