by Francis
(January 09, 2013)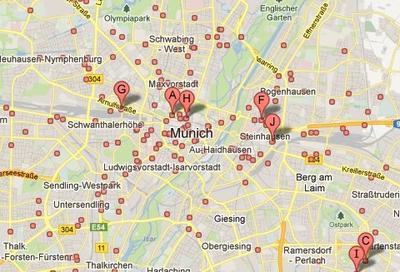 Here is what resulted from the research of job opportunities by Roman. After investing $40, he came up with a collection in excel sheet of over 200 companies in the area of Munich that are chemistry related.
Each search result has:
Name of the Company
Company Website
Career URL
Contact Email of the concerned HR employee
Telephone number
URL of the Contact us page (if necessary)
In other words, if you need a job related to Chemistry in the area of Munich like I did; you could simply use this excel sheet.
How It Would Come In Useful?
You could simply call up every enterprise in this excel sheet. Of course, it makes sense to read about the company first. That's why there is the link to the company website right next to it. Inform yourself if this company needs anyone and, if the phone call works well, you can send in your CV.
Some of these companies are smaller and don't advertise job vacancies on the big job search websites. In other words, having this information at your fingertips will give you an edge over your competition.
What If You Are Not In Munich?
I am aware that chances are very big that you are not a chemist, not living in Munich. If that's the case, this case study can still be of interest to you.
You can simply copy my procedure and get job research done for whatever city you are living in and for whatever branch of work you are in. Just make sure that you get the same sort of information from your web researcher.
Was This A Good Investment Of Money?
Here is the deal.
This research cost me about $40. In the time I was looking for a job, I was also registered on different headhunting websites. Many of them offered premium packages so that your CV is sent around to different headhunters.
I invested once about 157 dollars in to a service that would send around my CV once. The results were zero. Here, I invested $40 and got the contact information of 200 companies.
If I were to call all of them up, I am a 100% sure that I would get more feedback than from hiring the same headhunting service again.
Side Note: I don't want to share which headhunting service I was using because I was not successful with it. Just keep staying skeptic if someone wants your money for any headhunting service.
Here Is How You Can Get This Outsourced Research
I'm sharing my research with you. That is mainly because I don't need it urgently anymore because I have already found a job.
By the way, if you want to know what advice I would have given myself at the start of my job search, be sure to check out my top tips about the job hunt.
You can download the excel sheet with the researched data below. All I would like you to do for that is to share the message about this outsourced job project via one of your favorite social networks. It will be done with a click of a button.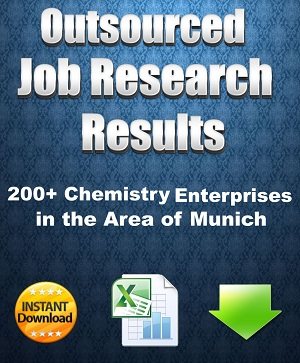 Please Leave a Comment If You Have a Question or You Learn Something
I don't want you to only read about my outsourced job project. I want you to learn from it and implement it in your own lives.
Perhaps, you need something else researched. Many of the lessons from the whole hiring and managing process up to the results and the price range of a virtual assistant apply for many many other researched tasks as well.
So feel free to jump in to the discussion below and post us a question. Leave us a remark or if you have criticism feel free to share it too.
← Previous Diary Page                                                      First Diary Page →
Comments for Final Results of the Job Search Project – 200 Chemistry Enterprises in the Area of Munich
Comments
comments