by Francis
(December 14, 2012)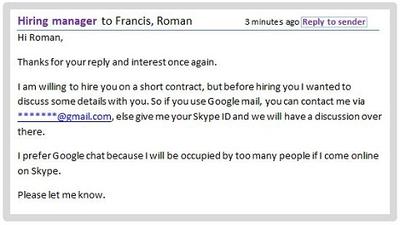 Here is what my hiring manager wrote to set up the initial communication.
I made it a habit after hiring someone for my team to quickly establish that I need them to use Google mail and Google Chat, Skype and a Dropbox.
You need to really set up and define your ways of communication on front. If you want daily work updates, set this up early in the communication while your applicant is still fresh and motivated to start working.
Also don't wait for eternities before you sent him the first assignment. You took so long to setup the cooperation.
Why loose time now.
In this case I left communications up to my virtual assistant who helped me as a hiring manager. He took care of all the rest. I only get involved when important questions about for example oDesk payments come up.
But everything else can be smoothly outsourced to your hiring manager if you have one.
Striking While the Iron is Hot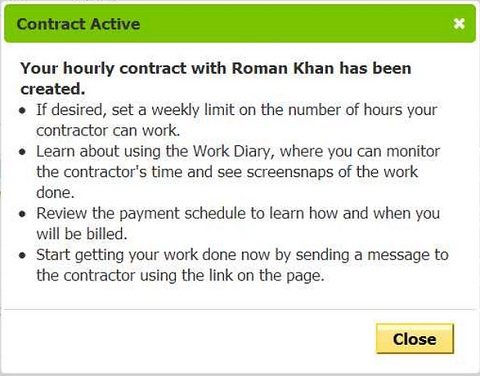 Here what oDesk has notified me just after I opened a new contract
I just started the contract with Roman.
The longer you take to decide which provider you want to hire, the more and more applicants you get. After a time, it gets really hard to overview the mass of your applicants.
That's why I will suggest you to limit the time you take to hire a person to a maximum of three days. That's about the time it took for my virtual assistant who acted as a hiring manager for me and me to hire Roman.
The next step is to set up weekly limit on the time your assistant can work for you. This serves both as a security for your money as well as for your managing.
If you limit the work of your newly hired assistant to 10 hours a week, he cannot cost you more than the allocated time limit. So there is not cost explosion here.
Also it would be easier to manage someone who is not working potentially full time for you. You can always expand your weekly hour limit later.
← Previous Diary Page                                                      Next Diary Page →
Comments for Setting up the Communication between My Job Researcher, My Hiring Manager and Me
Comments
comments