Accelerate Your Success – A How To
I was searching for a job for over half a year. Here are my best tips on job hunting for you. I only found out about the best and most effective job search tactics at the end of my job hunt.
Tips for your first job hunting
If you are just starting out and have recently graduated from college, looking for a job will be a challenge.
Chances are that you did not start applying for a job while still in college.
Even if this is good advice, your final exams were even more important to you at that time.
No problem. Tackle one challenge at a time.
Your First Job Hunting – The Most Important Tips
Use your connections: ask friends, family, teachers and professors for help!
Dress for success: get 1-2 good fitting sets of business clothes for your applications.
Find job fairs: it was the number one place to get good job opportunities. Talking to people face to face goes a long way!
 Just know that your first job search might take a bit longer.
It's probably a good idea to take a part time job while you do your first job searches.
Also, try to get as many
that you possibly can!
Why it makes sense to dress up in advance
Dressing up for success takes not only quite a bit of money, but also time. Shopping for suits, finding the right fit, and possibly adjusting the suits at a tailor takes a few days.
Time that you don't have a day before your job interview, believe me.
You don't want to be stressed out over a "minor detail" like your clothes at a crucial time!
Take the time to shop before right when you send out your very first application. You'll be suited up by the time you get your first job invitation.
Why personal contact beats everything else you have ever tried
It has happened to me before:
I send an online application with all my credentials, they decline politely and tell me they have no use for my profile
When I get to know HR employees at a job fair and apply after that, they invite me. And they invite me with enthusiasm.
That's why you should never, ever underestimate the power of personal contact. Even if – or precisely because – it is much harder to talk to a human being than to send a generic job application:
You will increase your chances of getting the job – a lot.
Establishing personal contact is one of the best tips on job hunting I can share.
Why you should never stop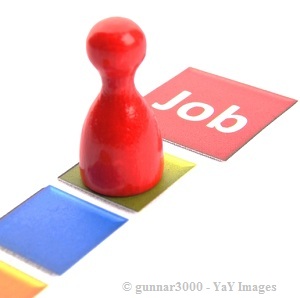 What if you have your dream job, are happy and don't want things to change, ever?
Well, life is changing around you. And if you don't keep up, you'll fall behind.
That's why I'll finish my tips on job hunting with this one: you must keep your options open.
If you have set up email alerts for job research websites
keep receiving them
use email filtering functions to mark them as read
and move them in subfolders, in case you ever need them again
Keep building new contacts even if you are working. Who knows, perhaps you'll secure your dream job of tomorrow?
Don't try to search until you find your dream job – at first
Please take this tip the right way: a first job, some work experience and most importantly, some money are more important than starting out with your dream job right away.
If you have the possibility to work, do it. You are free to look for other opportunities after a year or two. Actually, your first job won't be your last, in all probability.
Since you will change your position anyways, why not start out with this first job offer to make some "cash and XP".
By the way, you make the best connections while working on the job!
Comments
comments