by Francis
(working from my desk at home)
You need to work for your living, right? So do I. But sometimes I wonder if it really needs to be "the cubicle" from your mid-20 to your retirement. There must be something else, a small voice in my head is pondering all the time.
Then I came across an inspiring article that was hitting the nail on its head, so to speak.
Meeting with my old school friends strengthened my interest in building my independence online
Yesterday, I was invited to a 30th birthday party of a close friend of mine whom I know since school times. Many people I didn't know then were there, some with children, most with their partners.
As I was mingling and having interesting discussions with them, these topics kept coming up:
Is there anything better out there?
A few people had found their dream jobs – one of them was a co-pilot, but the down side was that he had to travel often and sometimes at night.
Many people were exchanging stories of themselves or others that have encountered psychic roadblocks at the beginning of their careers. Stress, mobbing, overhours, burnout.
It becomes so common that it scares me, to be honest.
No wonder I'm thinking there must be an alternative out there, right?
There are many "work-from-home" type info-products out there that don't work or trick you of your money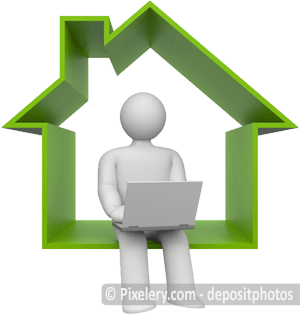 Obviously, I won't link to any bad examples. But you know these pages where your gut feeling is telling you: they are only after my money.
That's why I strongly recommend that you do your homework before jumping on any train to get started with working from home. That applies both for virtual assistants as for you, their potential employer.
Whatever program you choose, be sure to follow through with it without getting side-tracked by any other program along the way.
For me, the biggest distraction is to "switch to wordpress". Of course, there are many advantages with using this platform, advanced designs being the most obvious. But I'm convinced that high quality information is more useful to you, the reader, than just a shiny look.
(Upgrading the looks on my site is still on my to do list, though. And on another sidenote, there is one product I would recommend to you when you use wordpress to build your business – the right way.)
My take on the six advantages on working from home
Be sure to read the article first. Then, see if any of my thoughts to it ring any bell with you…
More time with your family
I don't have kids yet. But I can only imagine how much less time I would have if I had to take care of work, my online biz, and the needs of a family.
Do you agree that your family should come first? But what will you have to sacrifice if you "have to go to work" everyday and put your family first? Will you be able to spend as much time with your friends and doing your hobbies…?
Since family comes first, why not think about how to minimize the amount of time you spend in your cubicle. Or how to escape the 9-5 for good?
Less time lost commuting to work
I live in Munich, a big city. Commuting in less than 30 min only works if you live real close to your work place. My workplace is remote, and I relocated myself to find the sweet spot between still being connected to the city and having the shortest commute possible. It takes 30 min, every day, in the morning and evening.
And that's the shortest I can do!
What would you be able to do with 1 hour more every day…? (I commute about 8.5 days per year!)
What would you like to do with 8 extra holidays per year…?
Saving money
I spend about 2000$ on gas over a work year. Not to mention repairs, the environment and the risk of getting into an accident.
Nope, I don't see how I can discourage myself from the charm of working at home. 😉
Have you calculated how much time and money the trips from and to work alone are stealing you?
A sense of freedom
To be honest, I feel a bit differently than in the article. When you are free to work without supervision, you need discipline and order. I'm more of a creative-chaos type of person. So some structure and regularity would be beneficial.
But what strikes a bell much more than "freedom" is… peace.
Are you being yelled at by your boss?
Do your co-workers peer-pressure you into overwork or keeping the breaks short?
Or do you have to sell stuff to customers that are less-than-nice to you?
Increased health
With all the free time gained I could spend more time buying sweets and watching TV…
Erm, I mean – yes! Doing sports would be great!!
Seriously, if you would go for a walk every day, you would feel more fantastic than if you are stuck in a traffic jam during rush hour for the same amount of time. That's a no-brainer. (Until then, try to shift your working hours earlier and leave earlier, so that you at least escape the 9-5 traffic!)
Moving to a tropical island and live and work there
I'm not even sharing my super-secret plan of living on an island and lying on the beach all day. Because it's super secret.
But perhaps you can imagine another dream place to live in if you were free to choose where you live. (And if it's only to save taxes, or being closer to your family!)
Your thoughts on working from home
A virtual assistant will probably enjoy a few of the advantages mentioned in this article already. Many VAs from the Philippines I have interviewed or worked with make it an absolute priority to take care of their family when working from home.
What is compelling to you when you think a bit more wildly after having read all of this…? Please feel free to comment below. And if you know someone that should definitely change their outlook before stress gets the better of them, please point them here.
Comments
comments