by Francis
(Aug 12, 2014)
My full-time VA, Jomvie has had a lot of trouble with a test task that involve transcribing audio files. For him, the challenge was high and the difficulty of the task was high too.
Since I am outsourcing transcriptions to a specialist, including the transcription of these very words you are reading now, I know that it is feasible to do the transcription on a high quality level. The only thing I didn't know is if this task is very hard to do or not.
Here Comes the Challenge – The Employer Becomes the VA
I asked Jomvie to try recording an audio file about a topic which I then had to transcribe. The transcribed results from my work as a virtual assistant can be read here.
Here is how the challenge went step by step.
Step 1: It's 5:51am in the morning.
I went up very early to start this challenge before I go to my normal day job. I opened the audio file and listened to it using WinAmp. I tried to find the right settings for the volume and noted that audio quality is acceptable, but it is not very easy to follow the content of the recordings, in a word by word fashion.
The audio is good enough to understand the meanings, in general. That's not the problem. But transcription means word by word transcription and that is the challenge.
Step 2: Trying to find out if keyboard functionality with WinAmp helped the transcription process.
Since I know that I will have to write down my transcribed words and then rewind the audio file repeatedly, I tried to figure out this technical roadblock before even starting. After 3 minutes of research, I come to the conclusion that with WinAmp, the software which I normally use to listen to Mp3 files, I don't have this rewind capability easily. Of course, I can simply tap my left arrow button to rewind the recording. But that doesn't work if the WinAmp window is not in the focus. While I do this research, the audio I have to transcribe runs in the background continuously.
Step 3: Choosing Foobar for transcription.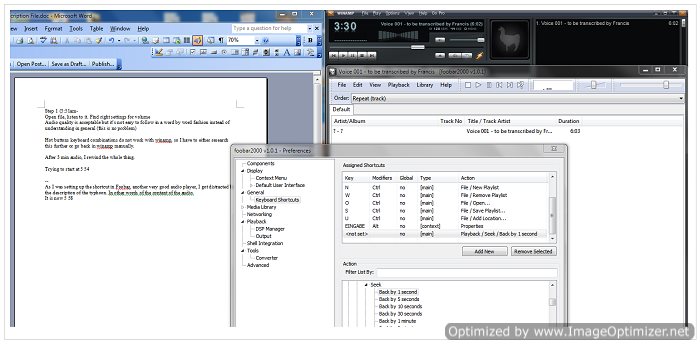 Foobar is a free software that can play all sorts of music formats. Another nice to have option is that you can set up customized shortcuts with your keyboard for different commands. The one command I set up there was to rewind for 5 seconds.
It is now 5:58am. The nice thing is the keyboard combination works even when fiber is not in the focus, but your writing window, for example, Word is in the focus. So,
Step 4: Open Word and Foobar next to each other in two windows.
Now I start the actual transcription. It's 6am. To be honest, I have an unfair advantage because I have listened to my 6-minute recording from Jomvie for 16 minutes now on loop.
So I've heard the recording a few times. A real transcriptionist does not have this kind of advantage. He starts with the transcription process at the worst, from the very first time he listens to the audio. On the other hand, I believe that transcription gets easier with experience and a few technical tricks.
Step 5: I finished the transcription.
Conclusion, this work was hard. It was very hard in the beginning. It took me a few minutes to get used to it and I always felt that my progress of transcription was very slow. Also, the end result of my transcription was a very crude text with lots of question marks where I did not understand a word from the audio quality, for example. So there is definitely some proofreading necessary. But in the end, I was able to transcribe 378 words in 17 minutes. This means that my transcription speed is 20 words per minute on average for this job.
All in All, the Experience was Interesting, but Doable
I remember that during my transcription work, so during those 15 minutes of concentrated work; there were some times where I really went into the zone, mentally, and could write almost as fast as Jomvie was talking in his recording. Other times, I had to correct every second word all the time. I believe that with some experience, a good transcriptionist, mostly, can get into that zone.
Also, there are some other tricks I can think of using a hardware like foot pedals to rewind and fast forward your audio recordings. Using audio settings to reduce the playback speed of the audio, in general too, for example, 80% of the speed.
For my very first transcript and with sometimes challenging audio quality and without proofreading, I am all in all happy with my transcription results. On the other hand, I know that the transcription is too hard for me to do as a professional job.
I don't feel I have the patience or the concentration abilities for that. So this gives me new respect for anyone doing transcription work. And I highly recommend that you try a similar exercise to transcribe some sort of post before you assess the quality of your transcriptionist.
By the way, a few days later, I proofread my post by re-listening to the audio once. So I had my proofreading done in 5 minutes.
My opinion still stands that transcription is one of the fastest and most efficient tools to get written content down to paper from your thoughts without suffering from writer's block or a lack of concentration.
Please join me in the comments if you agree or think otherwise.
Comments
comments