by Francis
(July 17, 2013)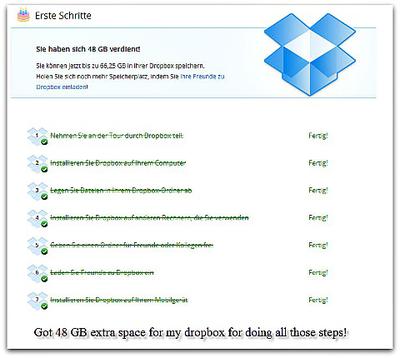 Dropbox notification for 48 GB extra space
I had a very nice surprise to receive 48 GBs of additional free Dropbox space along with a nice email notification from Dropbox.
Granted the additional space is limited to 24 months. So there is a risk of me being tempted to pay for premium service if I get use to those 48 GBs of free space.
But two years from now, that's a long time into the future.
Why Would You Need 66 GBs of Space for Your Dropbox?
For normal file sharing and storage, their default free space is probably sufficient. But working with a virtual assistant like I do, the many video instruction files really sum up.
Also, all the files from the research and rework from my assistant are saved in the same Dropbox, and that also piles up.
At the moment I can manage just fine with 18 GB of free space that I have received using a trick with Fiverr.
Check out this post if you haven't done this trick yet.
And don't forget to earn yourself additional 48 GBs of free space.
Comments for How to Get 48 GB Bonus Dropbox Space and How I Reach a Total of 66 GBs of Free Storage
Sep 10, 2014
Just purely amazing
by: JomvieI was so surprised also when I hand you my email and then I had these series of email notification the next few days saying that my Dropbox expands up to 60+gb.

I've no idea how that works, but it greatly helps on my end, especially with all those files that I don't want to delete (in case I'll need the in the future).

I just hope 24 months will take its time 😀
Catching Up Writing the Diary of My Virtual Assistant
by Francis
(July 31, 2013)
While some real life troubles are keeping me busy, my virtual assistant takes the opportunity to update his diary which you can find at the end of this post.
In this diary, he writes down exactly the work updates he tells me every day. If you watch them closely, you can see how many different tasks a well-trained virtual assistant is able take care of.
It's also highly recommended that if you have a virtual assistant, you send him to this diary so that he learns the communication style which will be very useful to you as an employer.
For an employer, saving time while reviewing the work of his virtual assistant is crucial. For an assistant, reporting his daily tasks in an easy to understand format is also very important.
We still have many work updates saved as a draft for review. Still do take the time to check out my virtual assistant's diary.
Comments
comments