by Jomvie
(Full-time VA from the Philippines)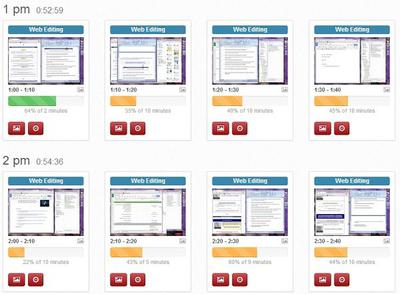 There is a lot of screen monitoring software out there and Hubstaff is among the most popular for both employers and virtual assistants.
This software is used to monitor the productivity of a virtual assistant and periodically capture screenshots of activities done during the working hours.
The Plunge
Hubstaff is the first and only screen recording software I have used since I started working online. I was a bit overwhelmed with its features when I started using it. The reason for this was its screenshot feature which pushed me to be productive as humanly possible.
Its measurement of productivity is also mind-blowing that I have to keep my hands on the keyboard and mouse clicking away.

During the first few days since I started working with Hubstaff, I felt like there was a shadow of my employer looming behind me that I have to keep working. No dilly-dallying. No coffee break. Of course no chatting with co-workers as I'm working alone.
Hubstaff Pros and Cons
I consider myself to be on a love-hate relationship with Hubstaff. There are things about this software that you'll love. On the other hand, as a virtual assistant, there are also things about Hubstaff that I find to be annoying and unforgiving.
Pros
Maximizes productivity – Due to the time-tracking and screenshot features, every minute that you spend working with this software turned on correlates to tasks and work done.
Makes every minute count – The work rate tracking feature closely monitors your every action and interpret if the time and work done equate with each other.
Easy monitoring and supervision for employers – Hubstaff provides accurate reports for the employer, which I think make it worth every penny they spend for it. This feature provides an overview for team deadlines and budgeting.
Cons
No time for rest and light work – This is where the terms "annoying" and "unforgiving" come in. Unlike in the real world setting where you can spare a few minutes of your working hours for coffee or lunch break, the virtual world with screen monitoring software are as an adjunct to working doesn't allow you to take a break.
Squeezes all your energy – As I have mentioned above, this kind of software is really unforgiving when it comes to its time and work ration. Of course, you can just "pause" the timer and take a break or relax. But this would only mean you have to extend your time to work for the day.
Facing the challenge
Overall, monitoring software like Hubstaff can be considered a very good tool for productivity and efficiency. This kind of tool can be called "The Ultimate Virtual Manager" as it can really push the virtual assistants and contractors to their limits in getting all the tasks done.
As my personal opinion, I guess some adjustments may be considered by both employers and employee when it comes to the inherent and inconsiderate program brought by the software.
What do you guys think?
Comments
comments