by Francis
(November 02, 2012)
From time to time when I talk with my friends, they ask me what they could outsource if they're not an online business owner.
The answer is, of course, everything as long as your fantasy and imagination can handle it.
Just think of any tasks you do at the computer that is repetitive and takes a lot of time.
Are you researching something repeatedly?
Are you clicking the same links again and again?
Are you, perhaps, even playing an online game which needs something boring to do in order to proceed?
Although the last example is a little bit extreme, you could outsource all those things.
In fact, I have prepared some transcripts for a brand new case study and page section about real life outsourcing in action.
I had to do something repeatedly the last days. I won't tell you what it is. It's still a surprise.
But then, something clicked in my head and I decided now's the time to outsource it. It will take less time to explain this task and have someone else do it repeatedly hundreds of time than for me to do all of these on my own.
So stay tuned. It might take a week or so until everything is ready. Until you can read about my next super-secret outsourcing project, but it will be worth the wait. Promised!
Comments for What Can You Outsource That Has Nothing To Do With Building Websites?
Keeping In Touch With Past Employers Is What Sets Apart Awesome Providers from Normal Virtual Assistants
by Francis
(November 05, 2012)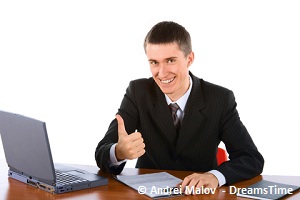 I just got a nice surprise as I received a chat from Shailesh, a virtual assistant whom I have worked with in the past. He's was one of the top three excellent contractors that I had the chance to work with, that also without any reasons took that time to drop a line and say hello even if there's nothing new.
It may be the politeness of Indian people or it may be that this person genuinely cares about my well-being. The only thing I know is that this does make a huge difference.
If you have a virtual assistant that takes the time to write back to you even years after your last cooperation and keeps on doing so regularly even if you don't respond; then this should give you a hint.
The next time you open a project; consider hiring the same person again. He won't disappoint you.
Making Money with Socks: This Has To Be One of the Most Creative Fiverr Gigs Ever!
by Francis
(November 06, 2012)
I just came across a funny Fiverr Gig. You can make money as a freelancer either by doing quality work or by surprising the heck out of the reader with just fun and bizarre ideas.
This guy will explain to you how he got your missing sock in a crazy as a thousand words letter for only $5.
If you have seen his video in his crazy bearded glasses look, then you will be chuckling already.
I have to hold myself back from not ordering this gig immediately. Who doesn't miss some socks?
Outsourcing your time with your girlfriend – a funny Big Bang Theory Clip
by Francis
(November 07, 2012)
One of my favorite series is the Big Bang Theory. When they made a joke about outsourcing, I just had to share this with you 😀
Check out this clip from the series:
Raj, being an Indian, often has to deal with stereotypical humour. But who knows what the future will bring?
If you hate to use the phone or are simply to lazy to use it, will you outsource spending time connecting to your friends?
(Anyone who knows the time before Facebook can see how very possible this extreme scenario could be!)
I'm all for unusual outsourcing experiments. The more fun, the better.
But you, dear reader, will have to find the line where you cannot send the task overseas to your assistant in India or anywhere else, and have to buckle down and do it yourself.
That's why I have the section about productivity on this site. Be sure to check it out to learn more about being the most productive self you can be!
Comments
comments