by Francis
(October 24, 2012)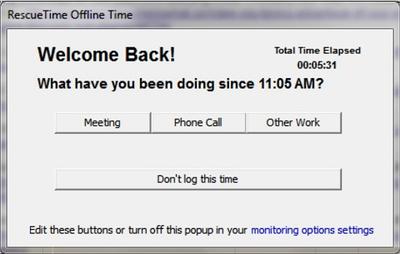 I'm not sure if this is for everyone. But one of the Pro features from the RescueTime tool is that even when I'm away from the computer for 5 minutes, I receive a pop-up form which looks like the picture at the top. This makes me accountable for almost every minute.
If I was at the workplace, this would be a great tool to keep me accountable. Was I discussing important matters in a meeting or did I do other work, then the fields are right there. There's one option I miss, though.
What about an option to say 'Sorry I did not work'?
This way the RescueTime offline tracking tool could effectively track when I'm procrastinating off the computer.
No problem – although this option is a little hidden, you can change what each button says and even add more buttons in the settings. Call them "eating", "sleeping" or "goofing off" – now you can track all that.
Sometimes, when I'm guilty of not working AND am too lazy to track the time exactly, I usually just click 'Don't log this time' instead.
If you sign up for the service for free, they give you a glimpse in to the Pro features for a week or two. After that, the Pro features are turned off. With that, this pop up is also turned off.
Perhaps, it's not that bad of a deal. But if you can't really handle pop-ups, simply disable them in the setting. Your choice.
Comments for Even When I'm off the Computer My Productivity Is Tracked!
Comments
comments