by Francis
(October 09, 2012)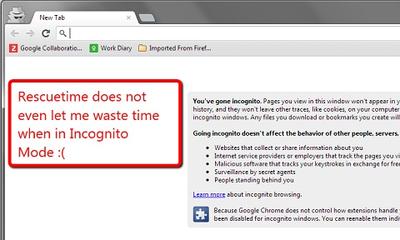 I like to use a different set of productivity tools at the same time. One good tool is Nanny for Google Chrome, a browser plug-in which keeps me a little bit more productive.
The problem is for the Nanny, there is an easy work around. Just go into incognito mode and then you can procrastinate all you want. Well those fun times had an end now, unfortunately.
When I used the "get focused" feature on RescueTime, it automatically blocks me from all pages which I have marked unproductive before.
So in a way, RescueTime's even more useful than the Nanny for Google Chrome. I don't even know if I need to use both tools anymore at the same time.
After some time when the RescueTime tool has blocked you from all the fan pages out there because they are all unproductive. We have no other choice than to start working. It's really all that simple. I'll just start to work or get offline.
Now if it would even block any offline programs that you used to lose time, like the Media Player that you used to play movies with, then it would really get shockingly effective.
Gladly, it isn't that far yet. And also I don't know if I would like to have an online tool to have so much access to my computer. But so far, I'm really pleased with the Pro features from RescueTime.
Comments for The "Get Focused" Feature of RescueTime Is Even Smarter Than Nanny for Google Chrome
Comments
comments