by Francis
(October 24, 2012)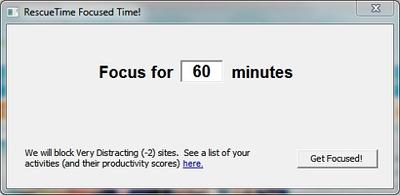 As an employer of a team of virtual assistants, it is my job to make sure that everyone is working and that everything is going well. Luckily for me, my team is pretty effective and my main virtual assistant needs very little supervision.
That's not always the case for all VA's. But if you're lucky and if you train your VA well then this can be a great outcome.
However, now that my VA is doing things for me, I need to exercise some discipline to keep myself from doing those tasks which I outsourced to my VA in the first place.
A virtual assistant works so that the employer doesn't have to.
If my virtual assistant does everything right and I'm wasting my time supervising him every minute and giving him needless repetitive instructions every hour. Am I being productive?
No, it's far from it.
What I decided to do, for the time being, in order to focus on more important tasks is to use RescueTime as a tool to keep me away from the work of my virtual assistant.
In other words, in the dashboard of RescueTime, I have defined all those tasks which were previously marked as productive like working on my websites, measuring the analytics and giving instructions as unproductive time.
Note that those tasks are not really unproductive. They are just inefficient. I'm really sounding like a smart-ass, aren't I, right?
But this is an important differentiation.
If my VA runs into trouble, he will make sure that I know this and I will make sure that he can clean up the trouble.
But if I don't rely on my virtual assistant, then we are effectively working twice as much for the same task; in other words RescueTime's, for me, a way to temporarily force myself out of the equation.
If I really want to replace my work by the work of my virtual assistant, I need to give him give him the freedom to do so.
Using the Pro feature of RescueTime to get focused, I blocked out every activity which is marked as inefficient for a certain amount of time. This prevents me from checking on my employees every minute.
If you have trained yourself one or several virtual assistants who are self-sustainable and work well without supervision then you are already advanced with outsourcing.
But if you are not there, do not hesitate to leave some work for your virtual assistants without supervision. If they screw up, you can still rectify the problems later or get angry if you think that helps.
In my opinion and experience, I think that leaving stuff to your assistants is more productive in a long run than to screen and measure every single step of the way.
As a side note, I have been guilty of exactly that. I'll try to get better on that account. 😉
Comments for This Tracking Tool Has Helped Me Force Myself to Leave Some Work to My Virtual Assistant
Comments
comments