by Francis
(October 24, 2012)
Last time when I got blocked by RescueTime because I activated the "Get Focused" feature, I actually got blocked out of a very productive site.
Fortunately, you can immediately change the productivity level of the site that you have been blocked out from. I got a good laugh at the screenshot which followed then. See the picture at the top.
"Don't worry we won't rat you out." 😀
So, the RescueTime team is very aware of the fact many people will use this feature to get a little bit of procrastination done anyway. But if you are a little bit disciplined, you won't do that.
While I was not procrastinating in any way, of course, I do like the sense of humor that the RescueTime team brings to the table. It makes the tool much more human to use.
Man, This Tool Is a Bitch, but It Keeps Me on Track So I'll Keep It
by Francis
(October 24, 2012)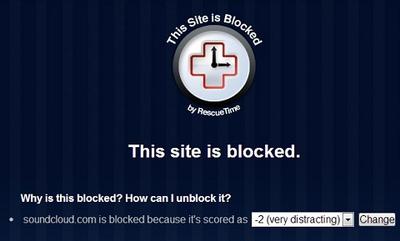 I just got blocked out of Facebook right now. I just wanted to spend 5 minutes on there.
Really?
Okay, maybe I would have lost more time if I'm honest with myself.
The RescueTime tool reminds me a bit of a grumpy teacher from primary school.
Every time I would reach for the box with sweets and chocolates, I would get my fingers slapped.
Let's hope that with all those virtual slaps from this tool, I get educated to be more productive over time.
I doubted a little bit but perhaps it works.
If this doesn't work, nothing will 🙂
Comments for Man, This Tool Is a Bitch, but It Keeps Me on Track So I'll Keep It
The Free Functions from RescueTime Mostly Stay Available Even If You're Not Premium Member
by Francis
(November 01, 2012)
When you first sign up for RescueTime, you get a preview of the Pro features like the Get Focused function for two weeks. It's just enough to get a glimpse of how it works.
After that, unfortunately these functions are disabled. However, the most important features like the time tracking still stay available.
You can easily replace the Get Focused feature by using a browser plug-in to keep you away from distracting sites.
In my opinion, you don't need to invest the money to pay for the premium features, in all honesty. You can easily replace the premium features with other free tools from other programs and get the same results.
That's what I do.
But I have found no replacement for the excellent time tracking statistics from RescueTime elsewhere.
Comments for The Free Functions from RescueTime Mostly Stay Available Even If You're Not Premium Member
RescueTime Stopped Me from Listening To Music
by Francis
(November 03, 2012)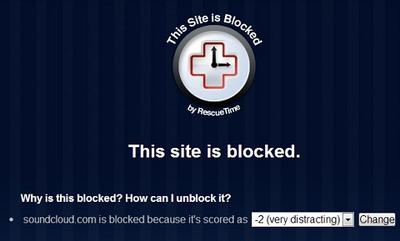 I really like to use this time tracking tool called RescueTime. But from time to time you have to fine tune its settings.
I was working very nicely and was not doing anything bad. The only thing I was doing on the sites is to use Sound Cloud to listen to some chilling music.
Unfortunately for me, either I or Rescuetime, I don't really remember have scored this time as very distracting with a score of – 2. So, right in the middle of this awesome song, the site got blocked and I got this pop up.
Fortunately, I can change the setting of the distraction score right away, in case RescueTime blocks something which was productive by mistake. So I can go back to listening to some music and being productive at the same time.
Over time the RescueTime tool will learn with your fine tunes settings – what's really productive and what's not. That's when real power of this tool kicks in.
Comments for RescueTime Stopped Me from Listening To Music
Comments
comments