My Virtual Assistant used to rely on Paint to edit pictures. The results are not optimal. I asked him to use Picmonkey instead.
If you want to use this tool too, feel free to grab a copy of the user guide my VA put together.
He used stock photos as examples to illustrate what is possible with this online picture editing site.
The advantages of using Picmonkey
You can learn how to use this tool in less than an hour with our user guide.
The results look way better than what you could ever achieve in Paint.
It's great for watermarking stock photos that you got on Fotolia or other stock pages.
You don't need to purchase and learn using Photoshop.
You can optimize the file size of your picture for fast loading speed of your pages.
You can share your best picture edits right after you finish with major sharing sites.
What you or your VA will learn from this ebook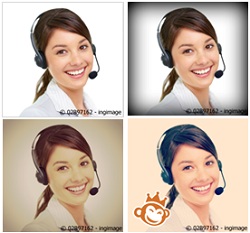 You will learn how to
crop
rotate
resize
sharpen
your illustrations with the push of a button.
Another task that you can easily do is touch up and embellish portraits and photos of people. This includes removing red eyes, whitening teeth and applying make up virtually to a person's photo.
One of the most beautiful applications is to put great frames and photo backgrounds around your illustration.
How the picture editing process works
Picture Editing with Picmonkey
A Free User Guide
  Get this eBook FREE if you pay with a tweet
or
Here's what's cool when you have a well-trained VA that knows how to use a picture editing tool.
When you want a picture changed in a webpage, ebook or anywhere else, you simply describe what you want.
Your VA takes care to save different variations of what the edited picture could look like, and you simply choose which one looks best.
He takes care of implementing the chosen picture.
Want to save time instructing your VA?
Your VA can figure out how to use the Picmonkey site in a few hours. Accelerate this and save the money you would have paid him and simply send him a copy of our user guide.
All we want, is for you to share the word about it, with the push of a button.
Comments
comments