[contentblock id=5]Using Craigslist to generate traffic can be very effective, if you have the right audience for it. Because I'm based in Germany, I needed a workaround for a craigslist phone verification to be able to post to the US.
OVERVIEW
What Worked: Getting a Phone Verified Using Fiverr
On Fiverr, you can easily research services that do Craigslist posting and account verification for the US for you.
Here is the service I have used. 

Pros:
Hassle free (I got my account verified in under one hour)
Minimal cost (5$ is less than it cost me to have my VA looking for solutions for this challenge)
Cons:
None. You have to make a free account for Fiverr.
The whole project cost me a whopping 5$ and about 10 minutes of my time. Not really that big of a "con".
Investing 5$ for a Craigslist Phone Verification – Step by Step
Cough up the 5$ (pay via credit card or Paypal). You automatically receive a notification with what further info is needed from you. In this case, my login info.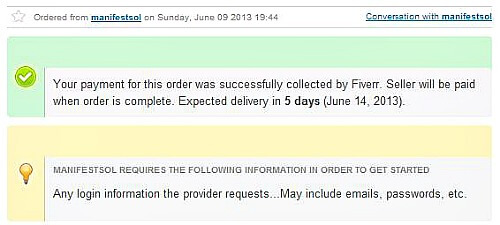 Note: by the Terms of Service on Fiverr, you're not allowed to share your email address.
It's recommended to write "(at)" instead of "@" and "ema1l" instead of "email".
This lowers the risk of your Fiverr account being banned. Just like the service provided did in his answer (see below).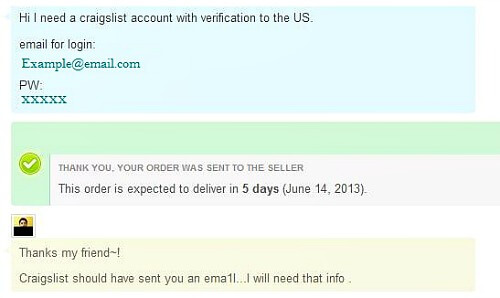 Note that I gave this unknown person access to my Craigslist account. This strategy of getting US verification for your Craigslist account is only recommended if you use a new account that does not contain personable or sensible information.
I checked my email five minutes later and copied the Craigslist notification as well as the activation link to the service provider.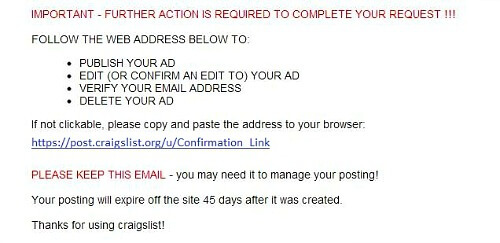 The actual work by the Fiverr service went within one hour, and we exchanged a few messages to clarify what was needed. It all went very smoothly.
He even let me play around with the newly phone verified account as long as we both still had access to it.
When I tried posting to San Francisco, US, the ad went live without any problems.
You Can Also Successfully Verify Your Craigslist for the US Using the Same Method!

It took a few weeks of testing out different ideas until I finally cracked the problem with bypassing the Craigslist phone verification step. Naturally, I was pretty happy when it finally worked 🙂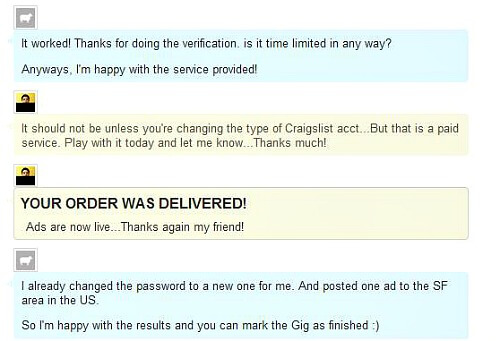 After the gig, I changed my password for my Craigslist account back to another safely generated password using my favorite password management tool, LastPass.
For the sake of completeness, let me tell you about what I have tried out before finding out the method described above.
What I Tried Out First: Asking a Friend in the Us to Set Up the Account for Me
You can always ask a friend in the US to verify a Craigslist account for you.
When my friend set up another Craigslist account from the US, I still had the problem that I needed phone verification for that account.
[contentblock id=5]
Unfortunately, my friend already had used his phone number for his own account.
When you do this, note that:
You can't use
a toll-free number
a prepaid phone card
any number from outside of the US.
Third Option: Hiring Someone on oDesk to Post Craigslist Ads to the Us
My VA already had prepared a backup solution if the account verification with Fiverr would not have worked:
He proposed to outsource the process to a freelancer on oDesk. (You can also read about it in his diary posts)
What my VA had to say about posting Craigslist Ads to the US
About the Craigslist task where you asked for my feedback, I think it's really good that the referral traffic from craigslist is spending much more time on ideal-helper on average.
Keeping in view this performance I strongly recommend that we should increase the quantity of ads. 
But as you know around 50% of visitors come from the US and Canada and at the moment we cannot even touch those 50% traffic.
I think first we should sort out a way to post ads to US. 
I know it is possible. You can either 
Purchase phone verified accounts (I don't recommend this method because sometimes craigslist asks you to re-verify your phone number if they have suspected it).
Or hire another person for this task, I did a short research on odesk and found these two profiles (both VAs from Pakistan) who are doing this job for $3.33/hour.
      1. Naeem Afzal
It's an easy and straightforward job if you have some friend or relative in US. A lot of people have their relatives and friends in the Europe and USA, especially if you talk about India, Pakistan and Philippines. 
So I think we should really try this out and hire someone for this particular task. I think one can easily post more than 10 ads/hour and then see the results if it's worth spending money on this task. 
Save Time, and Use the Fiverr Workaround to Verify Your Craigslist Account in The Us
Seriously, my assistant and I went through some trouble finding this solution. We really hope you can save yourself the time and the hassle.
And as soon as you have set yourself up to post to the US, you can publish and refresh your ads as often as you want.
Even Simpler: Get Your Ads Directly Submitted To Craigslist (Even in the Us) As A Service
If you don't want to post yourself, you can use Fiverr to have your ads submitted to Craigslist (or similar sites) yourself!
Here are some people who provide these gigs (my Virtual Assistant actually researched them):

Happy posting to Craigslist!
Comments
comments