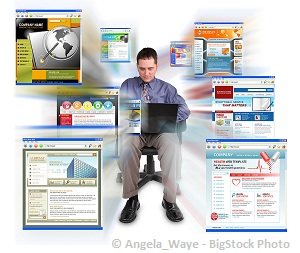 Ever thought: "Personal Assistant wanted"?
Here is a story of my website building efforts that encouraged me to hire a virtual assistant.
How it all began
One of the latest Google changes called "Penguin & Panda" attacked websites which have a lot of broken links and missing information.
Sitesell's proven philosophy that works, the C->T->P->M model helped out thousands of SBI website owners overcome these algorithm challenges.
Personal Assistant wanted to overcome Google's algorithm challenges
One of my other websites which has grown pretty large due to many guest submissions. After some time I had easily hundreds of broken links that needed correction.
I also had some pictures on this website which were taken from creative commons and used to illustrate my blog entries or guest submissions.
Needless to say that I worked with my virtual assistant and he researched pictures for me. But I will discuss this on another blog post.
The pictures were outdated and many attribution links did not work anymore.
Google is penalizing websites with too many broken links and I was experiencing dropping traffic levels due to these changes.
Personal Assistant wanted to replace hundreds of pictures
First, I asked my virtual assistant to research through hundreds of web pages for broken pictures or pictures which have been licensed.
Working with pictures that are licensed is very tricky. You can run into trouble and might end up paying hefty sums of money because a licensing company thinks that you are stealing their pictures. Even if you took these pictures from Creative Commons before and the user changes the licensing level of the picture afterward.
The legal consequences are unclear. If you don't want to risk losing much money, you better make sure that all your licensing information is up to date.
If you are a small (one man) online company, this means that you take care of your website all alone. As long as you have hundreds of pages of content with pictures, this task is almost not doable.
A virtual assistant is crucial to keep you updated and fresh on all the tasks you have.
So what did I do?
I asked my virtual assistant to help me update all my pictures and the attribution links on my website.
Since I am using the content management system of SBI, my personal assistant wanted me to first explain to him how to do this. This was easy by using a screen recording software. I just recorded every step of the process by talking, explaining and clicking and pointing.
Then I asked him to do the same on a specific example which I showed him step by step. Afterward he was pretty much able to do everything on his own. The guest submissions which all have pictures are good and bad at the same time.
Personal Assistant wanted to manage hundreds of guest posts
One of the strengths of SBI is their Content 2.0 system. This functionality makes my website grow quickly because visitors want to contribute to it.
I got many long blog entries written by guest writers for free. That was the good part.
The bad part is that we have to clean up all pictures and information which was not up to date anymore. Alone, it would have been an excruciatingly long task. With a virtual assistant that was very doable.
Has this convinced you to try out working with a virtual assistant?
Or is taking care of hundred of pictures within you blog and website pages not enough to answer the question: "personal assistant wanted"?
Comments
comments