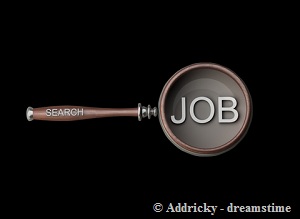 When I was looking for a job, these are the free job search websites I used.
Since this research takes time and you must follow up daily with new job opportunities as they come up, a team of assistants manually researched other job opportunities in the meantime.
BEST WAYS TO JOB-HUNT
Attend Job Fairs and actually go talk to people. They have the power to shortcut your application process.
Use all the connections you possibly can: your family, your friends your social networks.
Always call before applying for a job. Ask if the position is still open, and if your profile is of interest for this position. When you then apply, refer to the person you had a phone call with.
Monster – The International Job Searching Place
One of the best free job search websites is called Monster. It works for every country and is a great starting point in your job search efforts.
The goodies:
You can upload your CV and will get contacted by people who are specifically interested in your profile. (In my case, I got contacted because someone was interested in my basic Japanese skills – pretty awesome!)
You can set up different email alerts for different sorts of jobs. (In my case, I was interested in general chemistry jobs as well as work in the area of biochemistry and pharmacy.)
You can set up how often you want to get email. Personally, I chose weekly, because it was hard keeping up with daily email alerts.
Your data is safe.
StepStone – another useful Job Search Engine
StepStone is another free job search website I really like to use. In fact, for this website I like to get daily updates.
Just as with Monster, you can get Job updates for different search profiles and follow up on the job openings in a timely manner. When I apply to a position, I always specify where I got the information of the job opening from.
At the end of the subject line of your application, write something like
"– Your Job Offer on StepStone "
The Limitation:
Unfortunately, it's more useful for you if you are based in the EU.
Using Social Networks as free Job Search Websites
Posting "Hey guys, please help me get a job" on Facebook might be a good start. Leverage your friends, by all means.
But there are more powerful social networking sites that are made for professional use out there. Let me share two networks with you that I actually use personally.
Using LinkedIn as a Job Search Website
LinkedIn is a professional networking site. Just like Facebook, but without funny photos and much more… serious. It works internationally.
You can find job openings on this site too, and get email notifications just like for the full-fledged job search sites above. Oh, and don't forget to submit your CV here, too.
The Pros and Cons:
Another place to find job openings from, as well as a place to network with collegues from work and the official web presences of potential employers.
A great place to have professional conversations on. Especially if you are looking to become a freelancer yourself.
The contra? It's another social network, so it is bound to take up some of your time.
Using Xing – Especially in Germany
If you are from Germany, then Xing is actually even more well-known than LinkedIn.
(When in Germany, you should do like the Germans.)
Same deal: you can submit ýour CV, browse through the profiles of your employers and connect with people.
Tip:
Using your personal profile link to either LinkedIn or Xing is a great piece of information to put on your business cards.
(You have some, right…?)