by Francis
(July 04, 2012)
In my overview post I did not yet explain step by step how you continue when the job is done. Let me do that for you now.
You can see here that some tasks are not done and are waiting for completion

But one task has been reviewed and is ready to be exported to wherever you want to results to be.
Click on results to get what you paid for and only if you have saved it safely on your hard drive (and perhaps make a backup copy on your Dropbox) – only then click on delete.
Warning:
You won't get your results back if you deleted them prematurely!
Then, click on results and then you will see NOTHING.
Here it is a little bit tricky and you have to know this about Mechanical Turk:
You need to click on "Filter Results" and then click on approved projects to get all the results where you have clicked approve after you checked them.
Now you can see the results. Since you checked them already you can either go into the results and mark, copy and paste everything. Or, you can also download the results as an Excel-sheet.
If you make hundreds of thousands of HITs you can stream-line the approval and rejection process with this Excel-sheet:
Just download it, approve or reject, while following the instructions within the Excel-sheet and then upload it again.
(Personally, I have never done this because I limit my HITs to a maximum of ten per job.)
You can download the results as an Excel-sheet, but in case you do HITs which are text based
they might look a little bit screwed and weird.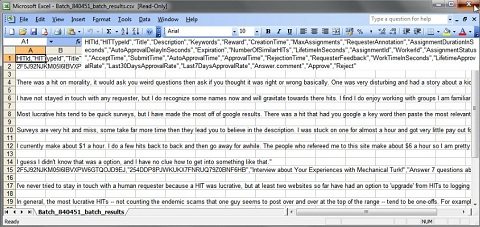 Good luck working through all of this!
Better Way to Handle This:
For text based HITs, it is in general better to click and copy paste each hit one at a time into a word file. This will save you some trouble.
By the way, if one worker has done an exceedingly good job, you can give him a bonus when you approve his work. Or, if someone does exceedingly bad job, you can ban him.
The worker does not leave a name and you should not ask for a real name. This can get you banned from amazon Mechanical Turk!
The only thing you get is an ID. Unfortunately I haven't yet worked out how to contact a worker using this ID alone.
Perhaps you can help me out…?
Just jump into the discussions and comments!
Comments for Managing Your Results from Finished Work on Mechanical Turk
Comments
comments