by Francis
(January 18, 2013)
I am extremely excited and thrilled about a new function that comes with the Blogit page from SBI!
If you want to start up a free blog using WordPress or Blogger, that's no problem. I also have a free personal diary style blog on Blogger.
Since it's personal, I won't share the URL with you here. But what I have seen from my personal blog is that it doesn't draw even a percent of traffic that I get with my SBI sites. And that's because they are not blogs but sites.
Why is the Blogit page Important for SBI pages?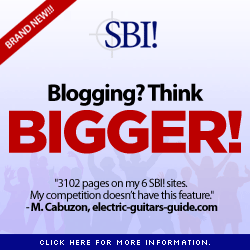 Each time I write a new article like this very post you are reading; I have the choice of distributing the page via RSS to everyone. It is also mentioned on my blog page and everyone who wants to see the newest content can see it there.
Up until recently, my blog page was extremely plain. It was just a blog of text after the other. Unless I manually wrote and illustrated a special blog insert.
(Actually, I asked my VA to illustrate my blog inserts for me. But you get what I mean.)
Now, SBI has brought out yet another new function and that's thumbnail pictures from the pages that are distributed on my blog page as well as styling each individual blog entry.
It's a difference like day and night. I think my blog page really looks much more nifty right now.
What do you think?
Even More and More Better Functions Just Keep Coming
For the last half a year, right after SiteSell finished bringing out the BlockBuilder 2 platform. Since then the team of SiteSell is bringing out new functions, goodies and additions to our sites at a crazy rate. I just love it.
I know that 2013 will be an even more productive year with more and more new stuff to play with. And the best part of all, the price of SBI never goes up. It hasn't since the last 10 years. Crazy, isn't it?
Comments
comments