The Best Win-Win Job For Both The Employer And The Worker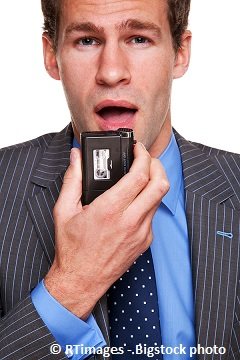 From my personal experience, there is nothing more efficient than employing someone to do transcription work at home from voice recordings. It is hands-down the fastest way to get written content.
Advantages of hiring transcriptionists:
You can find many people willing to do that work.
Bottom line:
If you want a low risk, high reward and low cost helper, hire an administrative assistant and let him do transcription work at home with your voice messages.
Transcription services: A great asset for any writer
Are you a writer? Do you experience writer's block?
Make use of voicemail transcription!
Speed up your writing speed by talking into a recording device and let someone else do the transcription work on the other end of the globe:
Transcription by a human assistant also works better than using the free speech recognition software from Windows 7 (or any other free transcription software I have ever encountered!).
How about the other side?
Disadvantages to hiring someone to do transcription work at home
The work is work tedious and can be bad for the health of the worker. Be sure to do follow good ethics in business and let your worker do other tasks than just transcription work to mix things up and keep it interesting.
That is also in your interest as an employer:
No worker can work focussed and error free on a tedious task that goes on for hours.
Think about other simple tasks (web research, writing reports about his progress, editing tasks) that your transcriptionist can do.
Why are workers willing to do transcription?
One of the easiest jobs to start out with is transcription work at home. By completing some easy tasks with great accuracy, the virtual assistant quickly gets some good feedback to his profile, allowing him to successfully apply for better jobs.
The work is easy, routinely doable and pretty safe. Having a safe income is crucial for most freelance workers.
How to best get the transcription work done?
For the employer:
Be sure to optimize the quality of your recording as much as possible. While you can record short notes "on the go" with some background noise being acceptable, it lowers the overall quality of the transcript.
Be conscious of talking slowly, with many full stops and without rambling. Do not use "So…", "uhhm" , "like" or similar fill words in your record. You'll be surprised how "badly" your spoken word looks like when transcribed…!
However, proofreading the transcript a last time will weed out most of the errors. This strategy is still much faster than writing everything all by yourself.
For the transcriptionist:
Transcribe as fast as possible a rough draft. Then re-listen to the recording and edit errors as you go. Repeat as often as needed and polish the transcript as good as you can.
If you are unsure which expression you just listened to in the transcript, do a analysis of what word would have been most probable from the context. But don't guess if you are totally unsure.
If there is a word that is impossible to transcribe, highlight it in the document.
My virtual assistant always writes [word missing] or [lots of words missing].
Since I know the gist of what I was talking about in the voicemail, I am often able to figure out the missing word. This works best if I receive the transcript as fast as possible.
So, my tip for anyone who is interested in doing transcription work at home:
Get the result to your employer as fast as possible. This will make everyone the happiest.
Comments
comments