by Francis
(Jan 21, 2013)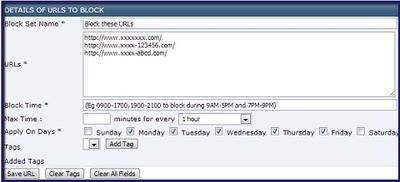 Google Chrome Nanny's interface for blocking URLs
I really like using Google Chrome Nanny as a time saving service in order prevent myself from procrastinating too much on the web. It works really well for Google Chrome normally.
But I think I have messed up my settings at some point. All my pages which I have blocked but given access to for a few minutes every day are blocked simply all the time.
Of course, I have an easy work around and simply go spend my time on those time-wasters using Firefox. But there must be some settings which I set up wrong so that all my blocked URL's are blocked all the time.
The solution, I'll ask my virtual assistant to look in to this. Perhaps there's something that can be done in order to recover the functionality that was intended from using Google Chrome Nanny.
At the moment, it blocks my time-wasters all the time so it's not that bad.
Comments for Problems with Google Chrome Nanny

Aug 28, 2014
Google Chrome has Nanny?
by: JohnI'd probably push any buttons in your case also 😀 just looking at it gives me some headache..

But, does it work like the "rescuetime" time tracking software?

Sep 03, 2014
Similar but different
by: FrancisGoogle Chrome nanny just blocks website adresses you specify in the settings. For example social media sites like facebook or online newsletter sites.

Anything where you know that you spent too much time on procrastinating.

Rescuetime would be able to show you where exactly you procrastinate most. One of its premium features, "stay focused" is very similar as it blocks sites that you tagged as non-productive.

Setting up the Google chrome "nanny" is not that hard. In case you are stuck, just type it into google and you find many instruction videos on how to do that stuff, step by step.
Comments
comments