by Francis
(Sep 25, 2014)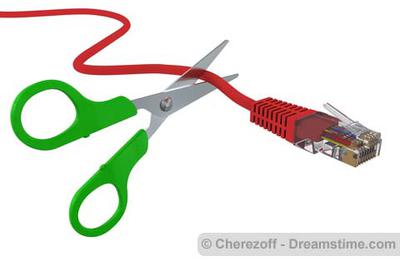 It is crazy how much time is wasted while being online if you are an online entrepreneur. You read forums, eBooks, download more materials, watch YouTube videos, conference recordings; the list is endless.
What are you not doing while you're being online? You're not being productive, of course. I have made this experience over and over again. So that I even went so far as to download software that forces me to stay offline in order to get stuff done.
When I force my computer offline for chunks of 90 minutes at a time, even if I suddenly start doing some house chores instead of working at my computer finishing and polishing articles, for example, I still get more done than if I am online and use a diverse set of online productivity tools.
A simple reason for that is that to set up your online productivity tools to keep them up to date, to check how your productivity is online all the time is taking away from the very thing you want to optimize. It's taking away from your productivity.
Hmm, that is a bit of a dilemma, it?
How's The Situation for a Virtual Assistant?
For a virtual assistant, the situation is a bit trickier. One of the main tasks of a VA is to stay online while he works. A simple reason can be that you have a time tracker installed that records your work while being online. This is highly recommended to every employer that you screen your virtual assistant using some time tracker application.
That aside, a virtual has not the leisure of goofing off on the internet while they are paid. It requires quite a bit of willpower and discipline to stay away from Facebook and the like during all work hours. That's even more the case for full time virtual assistant who are required to work up to 8 hours a work day without such unproductive online distractions.
So the solution in this blog post is not so much for virtual assistants.
Exception: If you find out that your virtual assistant is giving you more value for your money when he can work offline than he gives you when he works online then you should propose this to him.
Do You Really Need A Software To Get Offline?
The software is easy to use and it was cheap. It cost me just $10 one-time fee. I could very well press the button to disconnect myself from the internet. But then with one press of a button, I would have an easy pretext to check back some stuff online and be unproductive again. You could also go to your router and unplug it. In some cases people living with you, for example, your family might not appreciate that so much.
The simple fact is that to be productive on your websites if you are not doing specific steps that need absolutely to be done online, you're probably only need Word processor and your Windows Explorer for the structure. In my case, I also use screen video recordings and audio recordings with my mobile a whole lot. All of that can mostly be done offline.
What If You Want To Be Productive With Websites Online And Still Cut Yourself From The Internet?
In my case, I review the work diaries from virtual assistants regularly with video and audio recordings to give instructions for the next steps.
In the case I want to really crank up the productivity, I just open a set of tabs of stuff that I want to work on in my preferred browser, in this case, Google Chrome. Then, I disconnect myself from the internet if I close a tab, I cannot reopen it again since I'm offline.
I'm now forced to work through each of the open tabs of my browser without being able to open a new browser or the change internet address. This really focuses me back in to reach the greatest productivity and especially as a content writer and a website owner. This has proven to be one of the most efficient ways to stay productive if you have to do with work on the internet.
Don't Turn Your Internet Connection Off Just Yet!
Before you throw your router out of the window and cut your internet connection cables, please do take some time to let me know about your thoughts. Do you agree? Do you disagree? Is this practicable? Do you think it's exaggerated to install software that disconnects you from the internet? Or has the internet age progress to a state where one has to fight online distractions with every tool you got at your disposal.
I would be really interested to know about that. Please go ahead and click below to join and add a comment to the discussion.
Comments for Working Offline on Your Computer is 100% More Efficient Than Working Online

Nov 03, 2014
Self-Motivation and Self-Discipline
by: JomvieThe good thing is, I am not a fan of any social media platforms, but I do peek once in a while.

I always make sure that my shift would be entirely for my job.

If there's a need to refer some stuff online, well, that's when the time I will open a tab on the internet.

It's just a self-motivation and self-discipline—although I am often guilty with these two, but this is the best traits of a virtual assistant to avoid from being distracted and procrastinating.
Feb 20, 2015
Working Online Has a Lot of Temptations to Procrastinate
by: FrancisIf you are working online all day, it's very hard to resist the temptations. That's why it's good that you are so disciplined, not to give in to the next shiny button or link just wander off into the dance of funny YouTube videos or social media. There are, of course, lots of tools that can help you block distracting websites. RescueTime is one of them.

Do you have any tip from your own experience how one can learn to have a better self discipline?

Being disciplined and organized and, ideally, very regular work with your work are very important aspects of being a virtual assistant. But even if you are a VA, these characteristics can be very useful if you want to be more productive in any area of your life.
Comments
comments