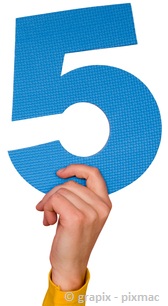 One of the easiest, fastest and most fun ways to try out having others work for you is to use the service of Fiverr.com.
Personally, I have played around with it way too much. It is just too addictive to have a simple fast job gotten done by someone else for a seemingly really small price of $5.
It can add up – but it is a lot of fun. You can treat it as a hobby and easily learn the basics of outsourcing: choosing an employee, hiring him and giving him feedback.
Here are some things that can be done for $5 and that I have tried out myself:
I got one of my websites critiqued and discussed via video
Many people offer to write articles for you
It is possible to get your Dropbox account expanded. You'll have up to 18 Gigabytes of free Dropbox space. This gig is really recommended
I got people to do funny videos for me where they behaved like a clown
I asked another person to write 40 high quality comments on another blog for five dollars
I got myself a Facebook fan page created – without knowing anything about it
Fiver is best suited for jobs that are related to internet marketing or work with a website. So, if you have one, you will find many interesting gigs there.
Gigs are what Fiverr calls its jobs.
Some gigs are really crazy
But you will find really fun stuff too.
From beautiful girls sending you pictures with your name – or any text you want – on partially covered private parts
Until creative videos with costumes or animals,
People taking photos while holding up signs with a text of your choice at different places all around the world
And people handcrafting small gifts and sending them for you.
You name it, you will find it.
Advantages and disadvantages of outsourcing to Fiverr
Advantages are:
It's fast and hassle-free
There are many possible tasks and you can suggest your own wishes
And it's pretty cheap (comparative)
Disadvantages are:
You intend to buy stuff which you don't really need. Just for having fun with it.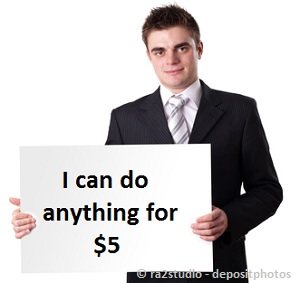 And one real disadvantage is that Fiverr has grown so big that many people, especially doing gigs related to article writing, internet business and SEO, are taking over the market place. And some SEO related gigs are not so lucrative in my opinion.
If you look closely at some of the social marketing and business gigs, then you probably will find someone better on oDesk or a similar outsourcing service.
One solution for that last point is to check out some of the copycat websites which are similar to Fiverr:
Justafive.com (gigs cost 5, 10 or 20 $, depending on how big they are)
Tenyt (similar, only for 10$ you'll get bigger tasks done)
Fittytown (also similar, but all gigs cost 50 $. Look here if you need a serious job done at a fixed price)
Those alternative sites are smaller andyou might find more real and down to earth gigs there.
But no matter which of those sites you choose to use, have fun with it. Try to get your feet wet with outsourcing.
Ready for Outsourcing Like the Big Shots?
Have you gotten the taste of how fun it can be that someone does some internet work for you overnight?
Then you'll want to learn about hiring a virtual assistant in an effective way.
Case Studies
Below I made some case studies of specific gigs I have created and what lessons I have learned from them.
Comments
comments