by Francis
(November 02, 2012)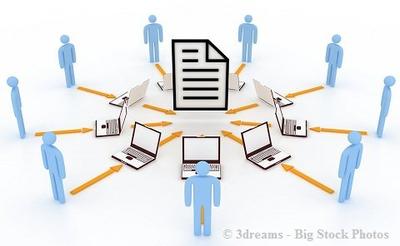 The Dropbox is not the best tool for multiple, simultaneous cooperation on the same file
The Dropbox is a must have tool; hands down, no discussion.
However, in some cases, it can be more of a bother than a help. That is when you have a group of people collaborate on the same documents, files and folders; only to create a big, huge mess.
I see that from time to time when I work at the same files as my virtual assistant in a Dropbox and then a duplicate file is saved.
I can only imagine the horrors of what would happen if 10 people, at the same time, would edit this document. But to be honest, the Dropbox is not created to work simultaneously with big groups of people.
There is a much better free tool if you need to only do that.
Just use Google Documents or Google Drive, as it is now called.
It is free.
The only thing you need is a Google account and you can actually work in real time at the same document. It works extremely well.
If you are very 'techy', then you might remember another product from Google called Google Wave. As of now it has been discontinued but it was the first major tool that really was used for real time cooperation of multiple people within the same document.
Google Docs has this functionality and it works wonders. After you are done with your document, it is a question of two clicks of saving the finalized document again into the Dropbox.
This is what I would suggest if you regularly have teams of people working on a document in the Dropbox;
Export the file into Google Document.
Work like crazy with hundred people at the same time on the same document. Well, I never said a hundred. Please don't get angry at me if it doesn't work with a hundred. But get three people working at the same time in Google Documents and it will be fine.
After you're finished and everyone has agreed with the changes, one person takes the file and saves it back into the Dropbox which will then sync the data with everyone else.
This is the best solution I can think of.
If you have had this problem and know more about this challenge, feel free to chip in in the comments.
Comments for Look Out When Using the Dropbox with a Big Number of Collaborators

Mar 11, 2013
ARGH
by: KittycatI like drobpox as well and keep recommending it to everyone. =) But I experienced the annoying problems with duplicate files there as well – argh! I spend half an hour comparing the files and sorting out which changes to copy in which document!!Maybe I'll give Google docs a try…
Mar 11, 2013
Stay calm… 😉
by: FrancisDon't get too heated up ;)If things get too ugly, ask the collaborators in your dropbox to help clean up. Just don't delete all versions of one document by mistake!

Dropbox is great for exchanges with one person. Or to distribute to many.

But if many people exchange, edit etc. a lot, then you should use Google Drive.
Feb 10, 2014
Google Docs — Two Thumbs Up!
by: DeniseWhen I first started out with online jobs years ago, I was introduced to Dropbox. I must admit, it bowled me over. Imagine getting to share documents, pictures, files simply by uploading them to a folder on your computer's desktop — all without the hassle of emailing them. I was so amazed with it that I even used it when sharing files with my friends and cousins. Some of them weren't patient enough to install it, but oh well, that's their loss.However, it indeed came with a disadvantage. As mentioned here in this article, when a lot of people collaborate on a single file, a lot of copies appear on the Dropbox folder you're all sharing. Actually, I thought it was a glitch when I first experienced it because the file names appeared with something that said 'conflicted copy'. I just ignored it and simply went on editing the document I personally uploaded. Eventually, the files on the Dropbox folder I was sharing with my workmates back then became too many and we all got confused. We had to revert to emailing again because back then, none of us knew about Google Docs. What a hassle!

Years after that, I got introduced to Google Docs. If Dropbox fascinated me, Google Docs impressed me even more. And all you needed was a Google account! It couldn't be any simpler! I think the great thing about Google Docs is that the changes all of you made were are instantaneous and you can see who made the last edit and all that.

However, I think we shouldn't only be careful when collaborating with a lot of people on Dropbox but in Google Docs as well. I believe it is really important to be careful with whom we share our Dropbox folders and Google Docs drives.

Moreover, I also think it is imperative that we make back-ups of whatever we do — online and offline — so that none of our work will go to waste and we won't end up having to redo anything at all if things get deleted or corrupted after they get uploaded.
Feb 21, 2014
Conflicting copies and confused cooperation partners = big time loss 😉
by: FrancisDenise, thanks for sharing your experience! Luckily, now when you have a gmail account – and who doesn't – you get access to Google drive automatically.But that doesn't replace the Dropbox, with its ability to synchronize your work across several computers, including program files or temporary files. It also has a function to retrieve past versions. That's something I don't think GDrive has.

But it's best to just have both tools and use each when it's best. 🙂
Jul 09, 2014
Eye sore
by: JomvieI encountered the same problem for a couple of times.. And I was so worried because it is somewhat a big project handed to me. Although the changes is not too much big of a difference but it's just annoying and sore to the eyes comparing one file to the other. I just hope that Dropbox will address this kind of problem.
Feb 20, 2015
Word Compare Function
by: FrancisI thought the Microsoft Word comes with a function that can compare differences between two documents. I guess that would have been really helpful in that case. But I agree that with all other file formats, if you have different Word versions due to conflicting copies due to the Dropbox, this can be very annoying.