by Francis
(June 29, 2012.)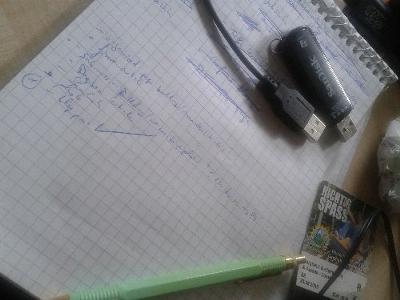 How my virtual assistant turns my rough ideas into action steps. Take a look at this photo. It's really how I do take notes.
Looks a "little bit" messy. Doesn't it?
Don't worry. I'll spare you the rest of the details of my desk. 😉
Seriously, I should take the time I freed up by outsourcing my tasks and really clean up my desk once in a while.
This is how an average day working on my website starts: I wake up full of ideas floating around my head. On a good and well organized day, I jot down some notes before I grab my cell phone and record a voicemail for my virtual assistant.
Then he is in for a very long monologue. I think the longest voicemail I recorded and sent to him was about one hour long. I don't even know how all this time passes so quickly. It's just that I talk all my ideas off my chest and then I rely on my virtual assistant to work through that mess.
Sometimes he transcribes parts of it.
Sometimes he transforms my jibber jabber into doable action steps.
Sometimes I am just asking about his feedback from his point of view and we work out a solution together.
If I would have to name one biggest weakness of mine, it would be this: I am too excited about too many thinks at once, but sometimes I don't get anything done.
Working together with my VA has helped with that a lot and my productivity has increased. This only works of course if your virtual assistant knows you really well and knows your business really well.
Fortunately, this is the case for me. And that is why I prefer to hire one excellent person for long time rather than switching workers several times a month. By the way, I have found my virtual assistant on oDesk, if you are looking for someone to help with your work too.
Anyways, with this blog post action item # 1 from my very organized list has been done. So I will put a tick to it. 🙂
To give my virtual assistant some work to do, transcription or research, I just continue to record the same voice message until I am done with all my items.
Yep! You guessed it right.
This very blog post was also dictated via voicemail and transcribed by my virtual assistant!
It didn't take longer than five minutes. I guess it's shorter than most bloggers take to right one long blog post.
Isn't it?
Sorry if I am bragging but today I am really feeling proud to have a virtual assistant at my side whom I can trust with all these tasks.
And as always I think he and myself will really be happy to read about whatever you want to add to this discussion.
Comments for From Messy Notes to Well Organized Results
turning my chaotic ideas into well-ordered content
by: Francis

I'm so to speak creative chaotic when it comes to creating a website. Thousands of ideas, new concepts and goodies for the webpages run through my head daily.

My virtual assistant helps me to order them and actually implement them, one by one.

It's quite a good synergy.

Do you ever find yourself unorganized and are not getting anything done? Perhaps it's time to team up with an ideal helper 🙂

CREATIVE
by: Kittycat

Sounds to me, like this website-working is a very creative thing. I'd love to do that, too!

This blog is a nice personal insight as well. =)

Voice recordings are really great!
by: Denise



For a few weeks now, I've been on the receiving end of these voice recordings. And so far, they're really great — especially when they come with screen capture videos! I can really understand what is expected of me. Also, I have realized now how emails are misunderstood most of the time while voice recordings just clear things up.

They're quite easy to work with because all I have to do is open them and Notepad and jot down what I hear. It's like an instant to-do list! And the best part? I can listen to them repeatedly if there's something I do not understand quite well. 😀

Voice recordings are really a must for employers who are working with virtual assistants. They really make things easier!

Organizer
by: John



You will always see the better picture after all the chaos. Good thing you can rely on someone who will organize your thoughts into one. 😉
Comments
comments