by Virtual Assistant
(July 14, 2012.)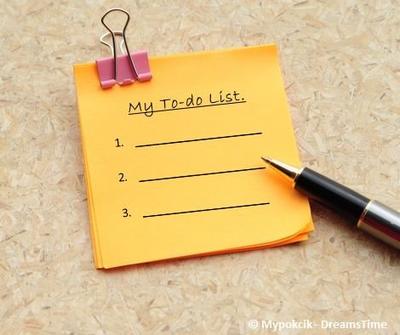 Checking off items will increase your productivity
"Being organized" is one of the key skills a virtual assistant must have and more importantly a skill every employer is looking for in his virtual worker at the time of hiring. If you can't organize the mess of your employer's desk, you cannot call yourself a successful VA.
Well, there are many tools which can help a virtual assistant to keep himself organized. But in my opinion an easy and simple to-do list program is an absolute must-have tool for any online worker.
It's up to you what type of to-do list program you use. You can either use a complicated and advanced tool, which has a lot of functions, including setting up reminders and do-follow-up emails, or you can use a simple and easy application which you can use just like a normal assistant uses Post-It notes to remember different tasks.
I personally prefer a simple and easy program which do not overly disturb or distract you by sending a lot of reminders and follow up emails. I need a program that can only help but does not disturb me.
To get something like this, I did some internet research and found out many different results. As I mostly use Google Chrome for web surfing and browsing, I also researched the chrome web store for a suitable application and finally got a very decent one.
This helpful application is called "Quickrr Tasks To-Do" and you can download it via Google Chrome web store for free.
By the way, Quickrr has tens of useful applications that can also help keeping yourself organized.
Don't worry if you don't use Chrome as your browser, you can easily get an alternate tool for Firefox.
This to-do list program is a very simple tool, but can be very helpful at the same time. After adding it to Google Chrome browser, a small icon appeared on the top of my browser.
After clicking this icon, you will see a fairly simple list of your to-do tasks.
To add a new task to the list, you just need to click "Add to-do item" and when the task is over and you click the check box and the text will become strikethrough with a single line.
If you are sure that this task is over and you don't need this task in your to-do list, you can click "Clear Completed items" and all completed task will disappear from your to-do list.
Here is another similar tool which you can use for the same purpose:
Comments for Using a To-Do List Service for My Own Convenience
Aug 30, 2012
Quickrr is pretty awesome
by: FrancisI was using Firefox all the time and got used to it. Now, I see the advantage of using Chrome, and Quickrr is one of them.Simple, easy, KISS (keep it simple, stupid ;))

Very much recommended to anyone who wants to get stuff done effectively.

Oct 22, 2012
Very Useful
by: Maria B.Having an organizer, either online or notebook, is the best way to put my work schedules and writing updates. This helps me in keeping myself on track and not miss out anything.I store an organizer application in my tablet and and make sure to keep it up-to-date before I sleep at night.
Jan 11, 2013
awesome – installed it immediately!
by: KittycatI just love to-do-lists!!They keep my live organized, especially as I tend to forget things I don't write down. Sometimes good ideas keep spilling in my head and the best method to realizing them is using a to-do-list, that helps me to keep them in mind. =)

I immediately installed this chrome-list. I also work with google chrome and do a lot of computer work over the day, so this is perfect for me!

Jan 11, 2013
Glad you like it!
by: FrancisI'm always happy to help – but this time all credit goes to my Virtual Assistant who shared his working method and this nice To Do List app!It's important to stay focused on one method that is working… for you!

This can be notes on paper or the latest computer program. As soon as you have found something that, at the end of the day, makes YOU perform faster – stick to this one method!

Feb 10, 2014
Thanks for the great suggestions!
by: DeniseI used to be pretty disorganized before. I cannot keep track of what I was supposed to do and when I was supposed to do it. Well, I did write down some of the things I used to do on sheets of paper but I lost them all the time. On the computer, I simply used the notepad — not even Microsoft Word, for godsakes.Fortunately, an old classmate introduced me to the Sticky Note gadget on Windows. I never knew about it since I didn't use to explore the applications on my computer as often as I should. As I kept using that gadget, I became a little 'addicted' to keeping to-do lists on my desktop since I was on it almost all the time and I could never lose the things that I saved on it — unless I needed to reformat. However, I searched and tried a lot of applications but none of them really appealed to me much until I found the Wunderlist application on Google Play. It is on mobile which is great since I can check my to-do list even when I'm not on my computer. In addition, it also sends notifications to my email so I can see when there is something important that I need to do for the day.

As of the moment, I'm still using Wunderlist. But I'll try Quickrr, too, since I wanted a to-do list on my desktop again. I downloaded it last week but only noticed that it was already on my browser just a moment ago when I was rereading this article. Haha! So far, I like it because of its simplicity and because it's like the Sticky Notes I used to have — but better! And maybe I'll check out the trial of the Monkey Mind Manager since its Calendar feature caught my eye.

Thanks for this very helpful article! Keep them coming! =)

Jun 22, 2014
Old-fashioned
by: JohnWow, that 'KISS' is quite a mind-blowing kind of idea. I like to write my notes using pen and paper—guess I love being the old-fashioned guy so just not to forget how to hold a pen J
Feb 20, 2015
To Do List With Pen and Paper Are Not Bad but They Are Hard To Track
by: FrancisI'm also very much fond of doing notes and doodles on paper. The disadvantage is that I have tons of papers flying around with smart and less smart ideas on them. No chance to get them organized either.There are a few possibilities to combine being old fashioned and keeping track of your To Do list online.

One is to master the use of Evernote, an online tool. You'll also have to scan or photograph all your paper notes in order to truly get everything into the cloud. The concept of doing that is called Go Paperless.

The other way is to do the rough brainstorming on paper first. And then use any one of the many online To Do lists to actually track your work.

Doing all of these online is important for a virtual assistant. If you are the virtual assistant, keep doing notes on paper if you'd like.
Comments
comments