by Francis
(June 28,2012.)
Sometimes challenges are so small that you even don't want to bother taking them on. I had to make a minor very small decision, but still the branding of my website was in question.
I needed to choose a favicon that's a little image you see in your browser bar right next to the name of the website and I needed to format and uploaded it to my site.
Check out this other post to see what went wrong with it and how I handled it.
I remembered how I did my first favicon by hand. It took quite a while and it was boring work and it didn't really change much.
Though it was a perfect condition to outsource this working step. I had my instructions to how to do this lying out already. So I just sent them to my virtual assistant for reading. I also wanted his opinion on which symbol could best represent my site.
From a list of stock photos, I asked him to research and download one for me. He quickly proposed one photo as a favicon. By the way, my virtual assistant and I came up with a great little tactic to virtually get unlimited amounts of great high quality stock photos with a little work around and by outsourcing the steps in between.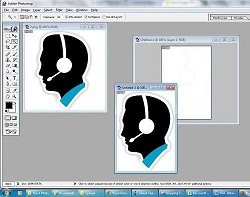 I will let you know when I will have a written post about it.
Great! My assistant chose the perfect favicon for my website. I just had a little problem with it. Perhaps you know it that stock photos must be attributed to the photographer so that nobody easily able to steal his work.
But a very small favicon does not have the place to write an attribution description to it and so I was stuck.
Could I use that photo or not?
It would have stayed like that if my virtual assistant was not pro-active and motivated and he did some work behind my back which made me really happy.
He went on to contact the stock photo customer services center and nicely asked if it would be possible to use a stock photo as a favicon without crediting the attribution details.
Soon the customer support replied and gave the exact conditions under which circumstances and on which pixel size the picture could be used.
Result:
No hassle, stress free, high quality favicon creation with all the little steps between outsourced to my virtual assistant.
I would be lying if I wouldn't think that this was pretty elegant.
I know what you are thinking now!
So much trouble about a favicon?
Well! It might only be one little icon to you but it was one item on my to-do list for me as a website owner and it had to be done one day or another.
Thanks to my assistant. It got done much earlier than if I would have done it myself and that should be worth something or not?
I am looking forward to see your comments on this post.
To jump into the discussion, just click to the link below.
Comments for What favicon should I choose for my website? Can I outsource this decision?
Jun 30, 2012
There was a little trouble with outsourcing this task
by: FrancisMaking the Favicon, my VA did a little blunder.Here is his post about it from his perspective.

I am sure it's interesting to read about the web business from the perspective of the employer (me) and virtual assistant at the same time! 🙂
Jun 11, 2014
Cool bargain
by: JomvieI usually have problems with what images/pictures will I use for my articles. Apart from copyrights, the quality of images is my main problem. Stockphoto, getty, etc… are the only ones with great quality photos. Will check and try this out.
Comments
comments