The oDesk feedback and rating system is the bottom line "carrot and stick" – next to the money paid with either fixed-price jobs or hourly jobs – to make sure the quality of the outsourced work is top notch.
It is very crucial, not only for oDesk but also for many other outsourcing services.
The better you are rated as a provider, the more likely you are hired on the next job and vice versa.
To virtual assistants reading this, but also potential employers…
It's not only your oDesk feedback that counts but also the feedback of others after the completion of the project.
The oDesk feedback score is like an online reputation
It works just like a job reference or testimonial. If all your testimonials sound really excited and extremely positive than you will impress your future employer and the likelihood of you being hired raises a lot.
This encourages the provider to really give their best. On the other hand, once you have a bad reference in your profile it will not go away so easily.
Employers usually read all references – at least that's what I do and that's what I expect everyone who reads the content of this website to do!
But sometimes providers go after sheer numbers as they might have a bad score, instead of gathering solid references, they try to fix their scores with numerous scores by doing really simple and easy small jobs which can be easily finished. This raises their average feedback a bit.
Be careful and read beyond the oDesk Feedback Score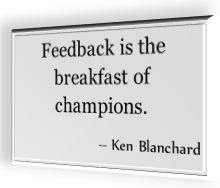 Careful employers read beyond the simple feedback rating system. Smart employers only read the testimonials. Or take note of the missing of testimonials.
Example:
"Comment made private" always sets off my alarm bells for any provider.
The importance of the feedback score from the point of view of a virtual assistant
As always, I asked my virtual assistant for his unbiased opinion. How important is the oDesk feedback score really?
Here is what he shared with me…
For me as a provider obviously feedback is very important, but feedback score is much more important than feedback text. I would not mind if an employer gives me a 5 star rating with a little feedback like "Thanks for your hard work!" is pretty much more than acceptable.
On the flip side if someone writes long feedback praising my work and my work attitude, highly recommending me to others but only gives me 3 stars, I would not prefer it.
Reason:
Many employers usually specify required feedback score within the job post.
So keeping in view this employer's requirement if I have a feedback score less than 4.50, no matter I have high positive remarks, but still I will not be even shortlisted for this job because the employer will reject my application without reviewing it as I am not fulfilling his job criteria. So in my opinion Numbers are more important than words especially in this case.
Obviously feedback remarks are also important but I don't think that all employers review it very carefully, normally they judge you with your overall profile and if you have a good feedback score, you are more likely to get hired rather than a person having one or two remarkable feedbacks.
But there is a thing which I rate above both feedback and score is the experience, I think the most important factor of your freelancing profile is your experience and availability. So if you have worked more hours you always have an advantage.
But here employers need to be a bit more careful because some freelancers are also outsourcing their work even further. Since they are so experienced and they have thousands of hours under their profile so they are more likely to get hired by most of the people, but here look at these statistics.
This provider has worked more than 5700 hours in the last 6 months which means he has worked 230+ hours per weeks which is impossible.
How can somebody work without eating or sleeping continuously for 6 months or so?
So I would consider it a spam because he has an experienced profile, therefore he is getting contracts and outsourcing his work to other providers.
Comments
comments