OverviewWork Period:
Nov 12 & 13, 2015
Hours Worked:
10:20
@$3.50/hour
Money Paid to Me (Virtual Assistant):
$32.55*
(*Exclusive of $3.62 charged by oDesk)
Overall Difficulty of Tasks:
Medium
Penny Pinching Cookbook Sneak Preview and Aweber List Updates:
Since there is a new subscriber to the PPG list, So I've created a short version of the PPG cookbook for the sneak preview. Please have a review of it and let me know if I should change something because I have created this eBook without any instructions.
Also changed the existing cookbook cover page slightly for the sneak preview version.
Then applied a new template to the Aweber email and also updated the email so that it looks better. I have sent you a test email, so if you find some time, please review and let me know if you need any changes.
Also added this email to the scheduled follow-up series.
However, I am afraid that the Squeeze page form is still not functional with the Aweber linked account.
Party Games Website Update:
De-merged Great Dares for Guys and Girls
Before de-merging that I checked the content via Copyscape and one of the comment was duplicate, so I have removed that from the content.
Other Administrative Support:
Checked all tasks from the Producteeve account and moved some of the tasks to Trello. Else, most of the tasks were assigned to Jomvie and not required a follow up anymore.
After taking care of pending tasks, I have deleted the Producteeve account.
Prepared a new batch for proofreading for Hannah, but at the moment it doesn't reach the required word count, so we'll have to wait a bit more in order to send that for proofreading.
Thanks for clarifying the Homepage experiment confusion, I have created a clone for the homepage, but having some problems with the content at the moment. The call-out boxes at the bottom are either blank or don't have images and links. In fact when I try to edit the homepage, I found the same problem with that too. However, the live homepage is fine, but playing with the homepage at the moment is a bit risky, because if I changed something on the homepage, we risk losing the content.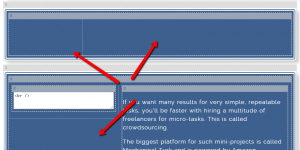 I assume that this is a temporary glitch and will check this again in a couple of days. If still not resolved, I will create a support ticket for this.
Also, checked this from Firefox and it also has similar issues.
Watched the recent work update feedback video and published all reviewed work updates after making necessary changes.