Overview
Work Period:
Aug 08, 2016
Hours Worked:
 5:10
@$3.50/hour
Money Paid to Me (Virtual Assistant):
$16.28*
(*Exclusive of $1.81 charged by oDesk)
Overall Difficulty of Tasks:
Intermediate
Yoast SEO Project Update
Mariyum has finished updating the SEO details for all posts. I have reviewed her work and then released her payment.
Also updated all nofollow and noindex posts because she had no access to change this option.
I didn't end her contract because I will discuss the other project with her about fixing titles of the post.
Web Content Management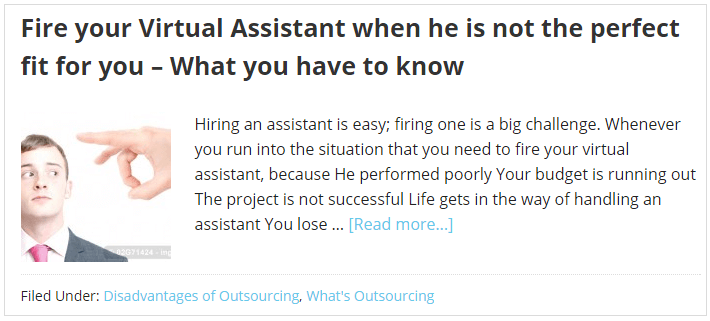 Also, removed the old content from the merged page after publishing this post.
I was not sure under which category I should post this, so I have chosen 'Disadvantages of Outsourcing' as the primary category and 'What's outsourcing' as the secondary category.
Now when we are using Yoast SEO plugin, so we can set a primary category for each post.
Trello Tasks Update
Wedgies Squeeze page should be made with OptimizePress (Link TBR) – As per this Trello card, I should move wedgies page to OptimizePress, but the actual page also has content 2.0 submissions under the page and I am not sure how we'll handle those within OptimizePress. I think we should create a new page with OptimizePress that needs to be linked from the original page using a banner.
Replace Theme SEO Plugin with YoastSEO

(Link TBR) 

– All the steps of the checklist are already taken care of, Please have a review and let me know if there is something left for validation. I have also created a copy of the Trello card and moved that to the reusable board.
Contact Support for Subdomain Issue

(Link TBR) 

– Don't know what this card is all about. Perhaps it was created when we were having trouble with setting up the third-party domain.